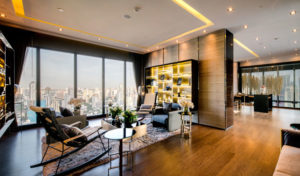 New collaboration for Ananda Development in Thailand with Shinyu Real Estate
Ananda Development Public Co Ltd, Thailand's leading developer in urban residential living and condominium developments located close to sky train stations in order to provide better lifestyles for urban people and encourage business strength and foreign markets, is announcing a new collaboration with Shinyu Real Estate, a one-stop condominium consultant service for investment and for living.
This partnership will bring Ashton Asoke, one of the most iconic landmarks in Bangkok, situated in a prime location in the heart of Asoke-Sukhumvit, to an expanding foreign customer base in Japan, China, Hong Kong, Taiwan and Singapore. The two companies are confident that their joint efforts will strongly increase second-quarter sales and meet target goals.
Sumeth Ransrikul, managing director of Ashton Condominium Business, Ananda Development Public Co Ltd, said: "Ananda believes that the condominium market, especially the luxury segment, has great potential for growth. These properties are preferred by foreign customers, especially those from China. The COVID-19 situation and continued travel lockdown has, of course, caused a slowdown in sales to foreign customers. However, when looking at the overview of Ananda sales in 2020, we can see that fully furnished condos are still in demand from customers and continue to transfer continuously, with 21 percent of sales coming from overseas customers. This has furthered our belief in the opportunities and potential that exists with in this market segment. In recent times, foreign customers have shown strong interest in investing in the Thai real estate market, especially in condominiums. Fully furnished condos ready to transfer, located in prime locations and fully equipped with all the amenities in terms of both lifestyle and travel are proving to be the most popular."
Ananda offers Ashton Asoke as a luxury condominium which focuses on foreign markets and completely supports all aspects of the target customers' lifestyles. This is a rare condominium, in one of the most iconic landmarks and prime locations in the heart of the Asoke-Sukhumvit.
It has units ready to transfer ownership that are fully furnished and set for immediate occupancy, so it serves the needs of customers looking right now for fully operational real estate.
From its prime location in Bangkok, the project has the potential to serve as the perfect home for living and business needs because it is located at the centre of Asoke-Sukhumvit, which is a central business district right in front of an interchange station connecting BTS Asoke and MRT Sukhumvit. It's located only 230 metres from Asoke BTS station and only 20 metres away from Sukhumvit MRT station, so sky train stations are just mere steps away.
The common areas have been designed with complete relaxation in mind for the residents to live comfortably and comprise more than 1,200 square metres both inside and outside on the 35th and 47th floors.
On the 35th floor there's a 38-metre saltwater swimming pool area complete with a a jacuzzi pool, a 15-metre-long children's pool as well as a steam room, sauna, fitness centre and library with views of the city. On the 47th floor is a huge sky garden area to serve the needs of residents in both their working and relaxing lifestyle.
Because the Asoke location is in the centre of Bangkok, the project's value increases yearly. It is suitable for investment in the short term or long term or as a rental income generating property. Yoji Kitaura, president and co-founder of Shinyu Real Estate Co Ltd said: "We are a one-stop service condominium consultant for investment and for living. We are a team of experts with good understanding of foreign customers, with seven years of experience in condominiums valued at more than 20 billion baht and more than 1,000 rental rooms. Ashton Asoke and Ananda condominiums have long been recognised by both Thai and foreign customers. We firmly believe that this collaboration between Ananda and Shinyu Real Estate will deliver the desired sales targets.
"Shinyu's customers are both Thai and international. We specialise in Japan, China, Hong Kong, Taiwan and Singapore. Our strategy and strength is to strive to be a top-of-mind brand by providing a full range of services with a team that takes care of our customers. Previously, Shinyu has worked together exclusively with Tokyu Livable, Nomura and Mitsubishi of Japan. Shinyu has been given the opportunity to partner with Ananda to market these luxury units, with a total value of more than 250 million baht [about $8 million], with special prices and promotions."
Ananda believes that international property buyers and investors will eventually return to prosperity. This will be aided by an increased strength in tourism and health, both of which make Thailand a world-class destination. When Thailand can reopen to foreigners and vaccinations are consistent across the world, the Thai property market will once again be in strong demand by foreign investors.
Source: https://www.khmertimeskh.com/50835282/new-collaboration-for-ananda-development-in-thailand/