Thai companies to build $200m mixed-use project in Siem Reap, Cambodia
22 February 2019
Thai companies will invest $200 million in a mixed-use development in Siem Reap that will comprise holiday homes, resorts, and a floating market.
Tous Saphoeun, co-founder of Borei Angkor Landmark Banteay Srei, told Khmer Times that he has entered into a partnership with Thailand's Sin Corp, Chang Siem Corporation and TPI Polene, one of the largest cement companies in Thailand, to develop a mixed-use project in Siem Reap.
He said it will be built on 500 hectares of land in his property.
"This mixed-use project comprises different properties, including houses, restaurants and a floating market," he said, adding that the market will occupy 50 hectares, making it the largest floating market in Cambodia.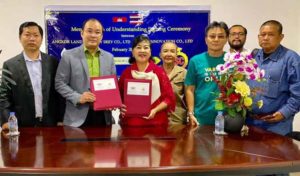 He said there will also be a 20-hectare theme park featuring animatronic dinosaurs.
Construction will begin this year, he added.
"Thai and Korean architects and engineers are designing the floating market and the resorts," he said.
The Thai companies are also building a solar power plant on a 70-hectare lot in the province, Mr Saphoeun said.
Po Eavkong, CEO and co-founder of Advance Real Estate Company, said the project will attract tourists and promote the property sector in the province.
"The number of tourists in Siem Reap is rising, along with demand for hotels, entertainment venues, shops, and tourism services," he said, adding that strong growth in the tourism industry is driving the development of the property market.
"The project will create many jobs for locals and generate revenue for the government," he added.
Source: https://www.khmertimeskh.com/50580596/thai-companies-to-build-200m-mixed-use-project-in-siem-reap/