Commercial operation begins along Bangkok's Yellow Line monorail
Commercial operations began along the Yellow Line on Monday 3rd July, with fares ranging from 15-45 baht per trip.
Children under 90cm and disabled persons can enjoy rides on the monorail free of charge, while senior citizens are entitled to a 50% discount on fares, said the director-general of the Department of Rail Transport (DRT), Pichet Kunadhamraks.
The cabinet has authorised the board of the Mass Rapid Transit Authority of Thailand (MRTA), which owns the Yellow Line, to offer discounts for daily passes, monthly tickets and special occasions too, such as Father's Day or Mother's Day, he said.
Further discounts may be offered to commuters who interchange with other lines operated by the MRTA, such as the Pink Line monorail, and the proposed Brown Line MRT.
DRT will invite all stakeholders concerned to discuss discounts for commuters who switch from the Yellow Line to the Airport Rail Link at Hua Mak station, he said.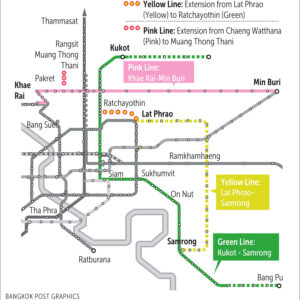 With commercial operations beginning on Monday, the MRTA has 45 days to pay the Eastern Bangkok Monorail (EBM), a subsidiary of Bangkok Mass Transit System Plc which holds the concession to run the Yellow Line system, 2.5 billion baht for building the system.
The MRTA will make a similar payment every year for the next 10 years.
The EBM expects to start profiting from the Yellow Line's on the 11th year of commercial operation. Its concession will expire in 2052.
Between 2032-2052, the EBM will have to share the profit from running the line with the MRTA.
However, in the first 10 years, the MRTA will be evaluating the EBM's management of the line. It can impose fines on the company or reduce its annual repayment to EBM.
The fares, a source said, will be subject to a review every two years.
Source: https://www.bangkokpost.com/thailand/general/2604468/commercial-operation-begins-along-yellow-line