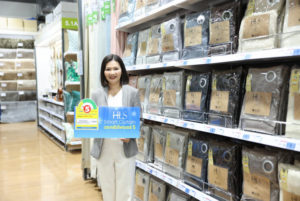 HomePro operator sinks 4 billion baht into establishing two HomePro stores and eight Mega Home stores this year
Ms Ittaporn says HomePro is adding more eco-products to its stores in line with current trends regarding sustainability and energy saving.
Home decoration and improvement company Home Product Center Plc, the operator of HomePro, has invested 4 billion baht this year in establishing new stores.
Ittaporn Srisukwattana, the company's senior vice-president for design & product development, said this budget would be allocated to the opening of two HomePro stores and eight Mega Home stores this year.
The company has already opened three Mega Home branches in Rattanathibet and Tiwanon in Nonthaburi and Bang Phli in Samut Prakan in the first quarter of this year and another three Mega Home stores in the second quarter.
The company is also scheduled to open a HomePro store at Seacon Square shopping centre this Saturday followed by two more HomePro stores in the second half of this year.
With the introduction of these new branches, the total number of Home Pro and Mega Home stores is projected to reach 127 by the end of the year, encompassing both domestic and international locations, including Malaysia.
"During the first quarter of this year, we witnessed a notable improvement in spending power, thanks to the government's stimulus package and the revival of the tourism industry," said Ms Ittaporn. "However, after the national election, the business experienced a slight setback. Nevertheless, with the formation of the new government, we believe that the home improvement sector will have a brighter outlook."
In addition to expanding its store footprint, the company intends to place a greater emphasis on selling eco-friendly products in its stores, aligning with sustainability and environmental concerns. The company recently added eco-home textile products, including the HLS brand of smart curtains to its eco-friendly portfolio. This smart curtain product aims to assist customers in saving money amid the rising cost of electricity bills.
The launch of HLS smart curtains is a step towards increasing the proportion of eco-products available in the company's stores to 50% by 2025, compared to 47% of total products last year.
Ms Ittaporn said the company will introduce more house brand products across various categories in the second half of this year, including dishwashing items made from tropical fruit. Over 100 product items under the company's house brand are expected to be launched during the second half of this year.
This is to respond more quickly to consumer demand and differentiate the company's stores from its competitors, while also attracting new customer groups, according to Ms Ittaporn.
Currently, the HomePro group offers 36 house brands, comprising 15,000 items.
The company expects overall sales to reach 69 billion baht in 2023, up 5% over last year.
Source: https://www.bangkokpost.com/business/2605541/homepro-operator-sinks-b4bn-into-establishing-new-stores