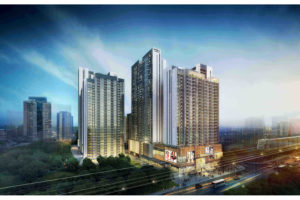 Hishine Group ready to penetrate Thailand's condominium market along the Skytrain (BTS) and Subway (MRT) lines in Bangkok
29 October 2019
Hishine Group, a specialist in worldwide real estate development for over 20 years, is ready to penetrate Thailand's condominium market along the Skytrain (BTS) and Subway (MRT) lines in Bangkok in order to provide new-gen lifestyles with convenience in traveling along with "Luxurious Modern" style and indulgent facilities.
Every project is in an outstanding location and Hishine aims to grow 50% in the next year, including a new plan to develop a residential project on over 100 rai by 2020.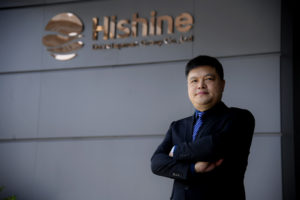 Mr. Chen Xue Feng, Regional President of Hishine Development Group Ltd., revealed that: "Hishine Group Thailand is a specialist in both residential and commercial real estate investment and development, focusing on real estate development in the business areas along BTS and MRT lines. Hishine's parent company located in Hong Kong is focusing on real estate development in the capitals and downtown areas of Southeast Asian countries. Earlier, Hishine developed real estate projects in China and Malaysia. It started real estate business in Thailand last year. We are also looking at opportunities in other Southeast Asia countries."
Hishine Development Group is currently investing over 22,500 billion baht in four real estate projects in Bangkok Metropolitan: Regal Condo Sathorn-Naradhiwas, Regal Bangna, Regal Srinakarin 40, and Regal Sukhumvit 76. The projects  cover a total area of 126 rai with indoor utilized space of over 404,000 square metres (sqm). Moreover, Hishine has acquired around 100 rai of land in eastern Bangkok for future development. Construction of the four projects has already started with the grand openings expected near the end of 2019. Regal Sathorn-Naradhiwas and Regal Bangna have already opened for pre-sale and the projects achieved sales volumes of 40% and 20% respectively.
Regal Sukhumvit 76 is a mixed-use project, including eight residential buildings and a 15,000 sqm shopping center, located between Bearing and Samrong skytrain stations, worth over 16 billion baht. The project consists of 4,931 residential units, fully furnished with Hishine's "Luxurious Modern" style, and a 15,000 sqm shopping centre on a total area of 18 rai, all set in a perfect environment. Luxury facilities in the project include a gigantic swimming pool, two pools on the roof, a Jacuzzi pool, a large park, a sky garden, a library mixed with co-working space, a fitness centre, a yoga room, a tennis court, a simulated cliff, and more. The location is full of potential and distinctive features, including being close to the BTS line, surrounded with schools, hospitals, educational institutes, shopping malls, restaurants and so on. Thus it accommodates new gen customers who need the convenience of traveling and require facilities to access and meet their lifestyle needs. Prices start from 1.79 million baht.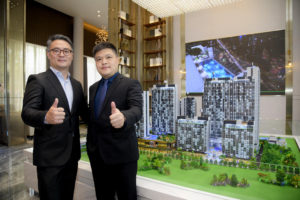 In November 2019, Hishine will launch Regal Srinakarin 40 project, an 8-stories condominium valued at 1,200 MB, located in Soi Srinakarin 40, close to the MRT yellow line. The project includes various facilities and is just 400m from Seacon Square Department Store, and 700m from Paradise Park Department Store. Hishine Group believes that Regal Srinakarin 40 will be another successful project that meets customer needs in the Srinakarin area.
Mr. Chen added that: "Although Hishine is a multinational company, it draws on fully-fledged expertise in each country. We also emphasise sustainable development and care for the environment and safety, along with innovation and technology. We are ready to work together with our partners to achieve sustainability in the real estate industry and develop and build comfortable residences to suit the well-being of Thai people. Although the housing market in Thailand is currently stable due to stricter regulations and higher interest rates, there is still huge demand. We do not see any real estate bubble in the Thai market because we are in the business of meeting real demand, not speculative demand, for low-rise residential housing priced at less than 3 million baht (US$97,150). This segment is 70% of the market, according to the Housing Business Association (HBA). So that is still a huge opportunity for Hishine to enter the market in 2019. We set our sales target of 3 billion baht and hope to raise it 50% in 2020 to reach 4.5 billion baht."
Hishine has introduced a highly qualified and experienced management team in property management with vision in strategic planning to provide good business development advice. The team enhances Hishine business potential bringing many future benefits. After that, Hishine plans to develop a residential project on over 100 rai and expects to start construction in 2020. Hishine may also start the townhouse project in eastern Bangkok within next year.
Source: https://www.bangkokpost.com/thailand/pr/1782499/hishine-flagship-hi-end-mixed-use-condominium-project-along-skytrain-and-subway-routes-to-meet-new-gen-lifestyle