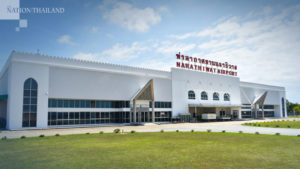 Thailand's Department of Airports ready to call bids for expansion projects to boost the capacities of four airports this year
By THE NATION
The Department of Airports is ready to call bids for expansion projects, worth a total of Bt3.6 billion, to boost the capacities of four airports this year, said director-general Tawee Gasisam-ang.
Among the planned developments is the construction of a new taxi way at Krabi airport, valued at Bt1.350 billion. This project will boost the airport's capacity to serve 25 flights per hours from ten flights currently. The new taxi way is expected to be operational in 2022.
A new passenger terminal, worth Bt800 million, will be built at Narathiwat airport to raise passenger capacity from 800,000 to 1.7 million a year.
Completion is expected in 2023.
Expansion of the departure area and installation of a jet bridge in Surat Thani airport at a cost of Bt200 million will also be up for grabs. This project will raise the airport's total capacity from 2.3 million passenger per year to 3.5 million. Currently, the airport handles 2.16 million passenger a year.This project is scheduled for completion in 2022.
A second passenger terminal will be built at Buriram airport, costing Bt775 million, to raise its passenger capacity from 800,000 to 1.7 million a year.
Construction is expected to complete in 2022.
He added that the term of reference for the projects at Krabi, Narathiwat, and Surat Thani airports will be available in March before the bids in April for construction to begin in August this year.
The bid for the project at Buriram airport is expected in May this year, said Tawee.
Source: https://www.nationthailand.com/business/30382151