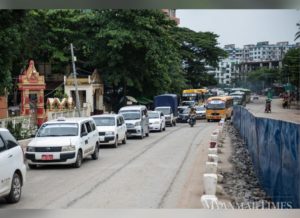 Construction of Yangon Elevated expressway to start in August 2020
The MOC released a final request for proposal for the development of phase 1 under a Public Private Partnership (PPP) to ten prequalified bidders on February 4. The bid submission deadline is set on April 30.
The MOC will select the winning bidder by May, U Kyi Zaw Myint said during a meeting with residents in Yangon on February 16.
Construction is expected to take about 3.5 years to complete.
Since 2018, the government has been looking for suitable investors to develop the YEX, which is required to connect businesses and residential communities and reduce traffic congestion in the country's commercial hub help pave the way for more economic growth and development.
The ten companies that met the criteria to be considered as prequalified bidders are VINCI Highways from France, Team Korea Consortium, China Communications Construction Company, JFEE/Marubeni Consortium from Japan, BSSIC Consortium from Thailand, Japan, and Myanmar, CRIG-CDL Consortium from China, China Gezhouba Group/Great Genesis Gems Consortium, ITD-CSI JV from Thailand and China, Denso-CSCEC Consortium from China and Myanmar and Power Construction Corporation of China.
The winning bidder will be the one that proposes the lowest cost to implement the project. Based on the MOC's estimates, the cost to develop the first phase of the YEX should be between US$80 million and $100 million
The winning developer should declare the total cost of the project to the Central Bank of Myanmar to avoid financial difficulties or issues, U Kyi Zaw Myint said.
The YEX is a priority project for the government and will be the first transport project to be developed under a PPP scheme.
The project will consist of a four-lane elevated road of 47.5 kilometres that will link the south of Yangon, which includes Yangon Port and Thilawa Special Economic Zone, to the north side of the city, where the Yangon International Airport, Mingaladon Industrial Park and the Yangon-Mandalay Expressway are located.
Phase one of the project will involve a 27.5 km four-lane ring road connecting east and west of Yangon, as well as the Yangon International Airport.
The tendering of the second phase of the project is expected to commence later this year.
SOURCE: https://www.mmtimes.com/news/construction-yangon-expressway-start-august-ministry.html