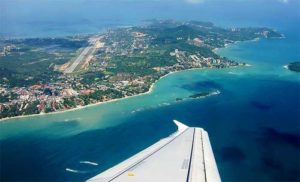 Build a second airport for budget airlines is much better than a bridge to Thailand's Koh Samui island
Fresh calls have been made to build a new airport on the holiday island of Koh Samui in southern Thailand.
New Palangdharma Party MP Dr Ravee Maschamadol told parliament that tourism in Samui was on a downward spiral.
He suggested that the current airport arrangement that has existed for years is a rip-off and is only for well heeled tourists.
He wants PM Prayuth Chan-ocha to consider building a new airport for low cost carriers. This would be much better than building a bridge from the mainland, an idea mooted in recent years and raised again in the last few weeks.
Dr Ravee said that the current airport used by Bangkok Airways just meant price gouging for the consumer. Their current 5,490 baht price was often even higher at 6 – 7,000 baht.
A return trip could cost well in excess of 10,000 baht while low cost airlines offer trips to the south to places like Krabi, Surat Thani and Trang for as little as 1,000 baht. Tourists could spend the money they save helping local economies.
He said that tourism in Koh Samui had been going down and down for the last three to four years. Right now hotels are empty even in the high season.
And the coronavirus outbreak is only making matters worse.
He said that a new, second airport needs to be built for low cost airlines that would cater to budget minded tourists rather than the current arrangement that serves only wealthy tourists.
This would mean more tourists, greater revenue and be much better than constructing a bridge for vehicles to cross from the mainland.
Source: ThaiVisa and Manager Online