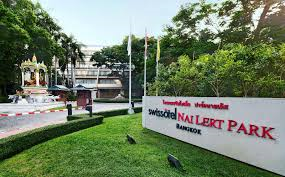 Swissotel Nai Lert Bangkok Hotel Set To Close
One of Bangkok's legacy properties, the Nai Lert Park Hotel has announced plans to close, under a change in ownership.
Currently flagged as the Swissotel Nai Lert Bangkok and operated by the ACCOR chain,  the property first entered the market as a Hilton. After 20 years under the hospitality group, the brand affiliation ended in 2003.
Facilitating the change is a sale to Bangkok Dusit Medical Services who will redevelop the site as a holistic wellness facility.
The Nai Lert is also known the hotel where Hollywood actor David Carradine died in his room in 2009.
So end's the story of one of Thailand's best known hotels and the shifting winds of urban real estate which has seen the demise of a number of low-density properties.
Source: http://www.c9hotelworks.com/news/legacy-bangkok-hotel-set-close.php