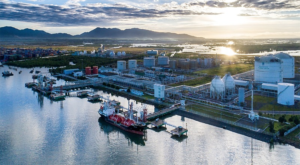 PV Gas starts constructing Vietnam's first LNG terminal, secures funding
State-controlled PetroVietnam Gas began construction of the Thi Vai LNG terminal, and also signed financing deals for the first phase of the project to import natural gas into Vietnam, it said on Monday.
The Thi Vai terminal will have a capacity of 1 million mt/year in its first phase, and is scheduled to start operations in 2022. Its capacity will be raised to 3 million mt/year by 2023 in the second phase of development.
The project will cost $285 million for the first phase with 30% of investment capital being financed by PV Gas and the remaining 70% from loans, PV Gas said, adding that Thi Vai will be the first LNG terminal in Vietnam.
"It is a strategic project because it represents an important of step of Vietnam in ensuring national energy security. The supply of LNG will help meet the rising demand of LNG in the domestic market," according to the statement.
On Monday, PV Gas signed deals to borrow $80 million from HSBC and two Taiwanese banks — Mega Bank and Taipei Fubon Bank.
The Vietnamese gas distribution company also entered into agreements to borrow Vietnamese Dong 2.1 trillion ($81.2 million) from two Vietnamese banks – Southeast Asia Commercial Joint Stock Bank and Vietnam Export Import Bank.
PV Gas did not elaborate on details of the contribution from each bank and where the remaining funds will come from.
PV Gas awarded an engineering, procurement and construction contract to build the Thi Vai terminal to South Korea's Samsung C&T Corp and PetroVietnam Technical Services Corp on June 24.
On the same date, it signed an agreement to supply LNG from Thi Vai to PetroVietnam Power's proposed Nhon Trach 3 and Nhon Trach 4 power plants in southern Dong Nai province with a capacity of 600 MW each.
In 2014, PV Gas signed two framework LNG sale and purchase agreements with Russia's Gazprom Marketing & Trading and Shell for deliveries into Thi Vai LNG terminal. This was followed by two preliminary LNG supply agreements with Virginia-based AES Group and Alaska Gasline Development Corp in November 2017.
Source: https://www.spglobal.com/platts/en/market-insights/latest-news/natural-gas/102919-pv-gas-starts-constructing-vietnams-first-lng-terminal-secures-funding