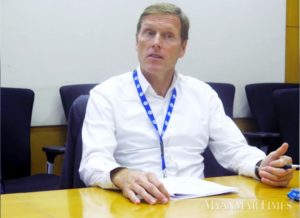 GE eyes expansion in Myanmar energy, healthcare sectors
30 October 2019
GE, the high-tech energy, health and aviation equipment provider, has plans to expand its reach in the Myanmar energy and healthcare sectors.
"Myanmar has huge potential in terms of revenue and orders for GE. Myanmar needs healthcare and a lot of electricity. There are good prospects in natural gas production and solar energy sector," Mr Wouter Van Versch, President and chief executive of GE Asia Pacific, told the Myanmar Times during a visit to the company's John F. Welch Technology Center (JFWTC) in Bangalore, India this month.
Mr Wouter added that "in the future, GE may come to Myanmar to invest in factories to support its expansion into healthcare and electricity production from natural gas."
After US sanctions were lifted on Myanmar in 2012, GE was one of first US companies to return to the country in 2013, when it signed a contract with state-owned Myanmar National Airways to support the airline's upgrade and expansion by providing fuel-efficient engines for six Boeing 737-800 and four Boeing 737-8MAX aircraft.
The company also provides gas turbines and supporting technology to modern power plants in Myanmar, including the US$310 million, 225-megawatt Sembcorp Myingyan gas power plant in Mandalay, which was completed this year by Singapore's Sembcorp Industries. The plant will generate power for up to 5.3 million people and is among the largest in the country.
GE is also working with the government and private sector to develop the infrastructure and solutions needed to meet healthcare needs in the country. With only 1,056 hospitals and very few private hospitals to support the country's growing population, healthcare services are still lacking in Myanmar, Mr Wouter said.
Currently, GE's healthcare products and solutions in Myanmar include the Revolution ACT, a CT scanner that reduces scanning time and x-ray magnitude by up to 36 percent. It was first introduced in Myanmar in 2016 and there are around 150 units now installed in Myanmar, which is the same number as in Vietnam.
The company has also deployed its Lullaby heater, reanimation and photo-scanners, which help detect the early sign of infant mortality, in Myanmar. "Infant mortality rate is still very high in Asean countries like Myanmar and Laos. For every 1,000 new born babies, 47 do not survive,"Mr Wouter added.
Around 2,000 Lullabies have been installed in Asean and the main markets are Thailand, Indonesia, Malaysia, the Philippines and Myanmar. Meanwhile, an additional 4,800 Lullaby LED PET units, which treats neonatal jaundice by reducing bilirubin in the blood, have been installed in the region, of which 1,615 units are in Myanmar.
Following the appointment of Sea Lion as a joint venture partner, GE has also contributed to the upgrading of clinical training courses for medical professionals in Myanmar and channeled up to US$7 million in education and other corporate social responsibilities in the country.
Moving forward, GE will continue to invest across the Asean region. "The region needs much more infrastructure in aviation, energy and healthcare. We can see a lot of potential. In the next 20 years, we expect spending on aircraft, energy and healthcare facilities to rise two folds compared to now," Mr Wouter said.
Much of that expansion will be supported within the JFWTC, where some 5,300 scientists and engineers are now working at developing new technologies in the medical energy and transportation industries. This includes intelligent machines which can offer real-time solutions, Mr Wouter said. – Translated
Source: https://www.mmtimes.com/news/ge-eyes-expansion-myanmar-energy-healthcare-sectors.html