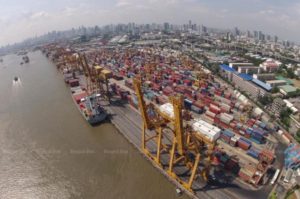 Port Authority of Thailand's labour union threatens protest against mega-city project on Bangkok's Klong Toey port land
The Port Authority of Thailand's labour union has threatened protests if the management and Government press ahead with their ambitious plan to transform a large tract of the port's land into a huge commercial city, complete with a mega-mall and high-end real estate project.
Union president Sakchai Kulsanan said today (Tuesday) that the mega project is designed to appeal to the private sector, citing the 90-year concession period for land use, in exchange for dismal returns of 5%-10% of the revenue generated to be given to the PAT.
He also pointed out at a proposed term of reference allows the concessionaire to hold up to 51% of the shares in a holding company to be jointly set up by the private sector and PAT to operate the mega commercial city.
Source: https://www.thaipbsworld.com/pat-union-threatens-protest-against-mega-city-project-on-klong-toey-port-land/