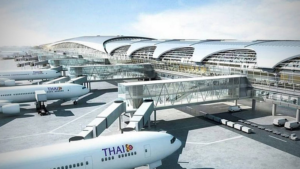 Airports of Thailand earmarks Bt200 billion to fix capacity levels at six airports
Airports are Suvarnabhumi, Don Mueang, Phuket, Chiang Mai, Chiang Rai and Hat Yai
By THE NATION
Airports of Thailand (AOT) president Nitinai Sirismatthakarn recently noted that the six airports under AOT administration are serving 141.87 million passengers annually while the accumulated capacity of them is only 101 million passengers.
"This result in crowded airports, especially Suvarnabhumi, which has the capacity for 45 million passengers but is now handling up to 64.71 million passengers annually," he said.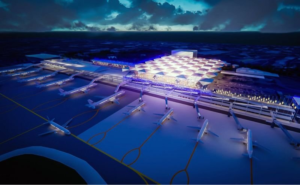 To solve this immediate problem, AOT is focusing its six-year plan (2019-2025) on expanding four major airports under 6 projects with a total investment value of approximately Bt200 billion. "These six projects are: Construction of a third runway and second passenger terminal at Suvarnabhumi Airport; expansion of Don Mueang Airport in phase 3, development of Phuket Airport in phase 2, and the development of Chiang Mai Airport in phases 1 and 2.
Nitinai further explained that the new passenger terminal to be added to the north side of Suvarnabhumi Airport will expand its total capacity to 90 million passengers, which should be enough to satisfy the demand for the foreseeable future. "The second passenger terminal is the top priority and needs to be completed as soon as possible so we decided to push back the projects to expand the eastern and western terminals in the extra phases to a later date," said Nitinai.
As for Don Mueang phase 3 project, AOT will build a third terminal for international passengers and improve the first terminal to serve domestic flights. "At Phuket Airport, we plan to expand capacity of international terminal to accommodate 10.5 million passengers per year, as well as build parking areas for 3 additional planes," said Nitinai. "By 2022 Phuket Airport should have the capacity of 18 million passengers per year."
Meanwhile, phases 1 and 2 of the development project for Chiang Mai Airport aims to increase the airport's capacity to 20 million people annually. The project is now awaiting EIA approval.
Nitinai added that once the Phuket and Chiang Mai airports reach their potential limit and cannot be expanded any further, AOT will explore the possibility of building additional airports in nearby provinces, such as Phang Nga and Lamphun, after extensive feasibility studies and public hearings.
The six airports under AOT administration are Suvarnabhumi Airport, Don Mueang International Airport, Phuket International Airport, Chiang Mai International Airport, Mae Fah Luang – Chiang Rai International Airport and Hat Yai International Airport.
Source: https://www.nationthailand.com/news/30378078