Pattaya's Waterfront Suites and Residences eyesore could soon be demolished
SEE ALSO: Pattaya's Ghost Tower Eyesore Discussed Yet Again – Demolition Experts Consulted
It is one of the ugliest things in Pattaya. And also one of the longest lasting.
A 53 story building on the bay in South Pattaya that has been the subject of legal wrangling for a decade and more.
The Waterfront Suites and Residences first started building in 2008 on two rai of land and promised 312 condo rooms.
Foreigners and Thais snapped up purchases between four and 10 million baht.
But Itthiphon Khunpluem – a former mayor – called a halt to building before it was finished citing planning regulations and a host of other legal matters.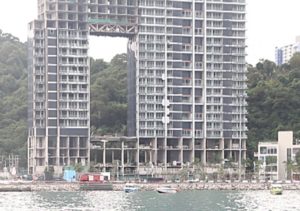 Now Manager reported that what they called a "never ending epic" may be drawing to a conclusion.
The current mayor Sontaya Khunpluem has called in tenders from contractors for the building's demolition.
They reported that a long running saga of a building that blights the Pattaya skyline could soon be coming to an end.
Source: Thaivisa & Manager Online