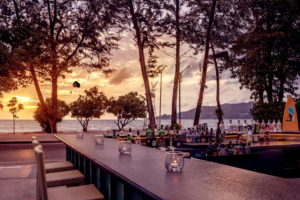 DoubleTree by Hilton Opens New Hotels in Bangkok and Phuket
24 September 2019
This month, DoubleTree will celebrate the openings of new properties in two of the world's most visited cities according to Business Insider – No. 1 ranked Bangkok and No. 12 ranked Phuket. Since opening its first property in Thailand with DoubleTree by Hilton Sukhumvit Bangkok in 2013, the brand eyes additional development this year as the country continues to see healthy year-over-year growth in both tourism and business travel.
Accommodating business travelers visiting Embassy Row or leisure travelers looking to immerse themselves in Thai culture, DoubleTree by Hilton Ploenchit will open its doors in Bangkok's city center with close access to one of the area's vibrant neighborhoods. The hotel is neighbored by lively streets, cultural landmarks, trendy nightlife and the Ploenchit BTS Skytrain, offering convenient access to the rest of the city.
The brand also recently opened DoubleTree by Hilton Phuket Banthai Resort, an idyllic tropical getaway to Thailand's southern beaches that contrasts the bustling metropolitan north and is situated on the turquoise waters of the Andaman Sea. The newly converted property sits in the heart of Patong and offers guests a complete resort experience with a number of breathtaking pools and swim-up bars, an array of international cuisines at The Port and The Shore, and for a limited time, will feature a deluxe cookie-themed suite complete with an in-room DoubleTree Cookie bar and cookie scented amenities and décor.
"Asia Pacific continues to be an integral part of the DoubleTree by Hilton growth story, especially during the brand's 50th anniversary year. In addition to these new properties, we are slated to open close to 100 DoubleTree hotels throughout the region in the coming years, totaling more than 24,000 rooms," said Shawn McAteer, global head and senior vice president, DoubleTree by Hilton. "Destinations throughout Thailand continue to see an increase in international visitors, and we are excited to extend our warm welcome that guests have come to appreciate."
"Our momentum in Asia Pacific, which is home to more than half of the world's youth population, presents a tremendous opportunity for DoubleTree by Hilton to further deepen The Hilton Effect through meaningful career opportunities," said Sean Wooden, vice president of brand management, Asia Pacific at Hilton. "This year, Hilton has been certified as a Great Place to Work in Thailand and six other countries across Asia Pacific. For the third year running, we also continue to be the top hospitality company to work for in the list of Asia's Best Multinational Workplaces. With every new DoubleTree by Hilton property that we launch, we open doors to growth and progress for more communities throughout the region."
DoubleTree by Hilton is the second fastest growing Hilton brand in Asia Pacific behind Hampton by Hilton. Close to half of the DoubleTree global pipeline is in the region, some of which include: DoubleTree by Hilton Napier Hotel & Suites in New Zealand, DoubleTree by Hilton Putrajaya Lakeside in Malaysia and DoubleTree by Hilton Weerawila Rajawarna Resort in Sri Lanka.
Source: https://www.hotelnewsresource.com/article107208.html