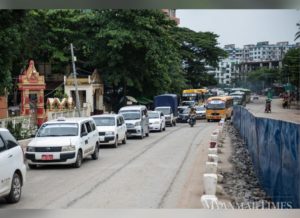 Photo: Aung Khant/The Myanmar TimesYangon Elevated Expressway, phase one to cost $800 million
Phase one of the Yangon Elevated Expressway Project, which includes construction of the Yangon Elevated Expressway and the Yangon Circular Expressway, will cost around $800 million, according to U Han Zaw, union minister for the Ministry of Construction.
"The project is part of a Public Private Partnership (PPP) system with the Yangon region, and will help to reduce traffic congestion in the city," he said.
Phase one of the project will be 27.5km in length, including a 19km four-lane road and a 2.5 km two-lane road connecting to Yangon International Airport.
The Expressway will not only reduce the traffic jams in Yangon, but also improve living standards and create new business opportunities, said deputy minister Dr.Kyaw Lin.
Proposals for the project were first canvassed in May 2018, and 53 companies expressed interest.
Twelve consortium groups submitted proposals in November 2018. A list of ten companies that met the criteria as prequalified bidders were announced in December 2018.
The Yangon Elevated Expressway will be implemented by the Ministry of Construction and Yangon Region Government under a Public Private Partnership with the winning bidder.
The expressway will pass through eight townships including Mingalar Taung Nyunt, Tamwe, Thingangyun, South Okkalapa, North Okkalapa, Mayangone, Mingaladon and Insein. The expressway will be 27.5 km in length, 8m to 19.5m in height and comprise four lanes. – Translated
Source: https://www.mmtimes.com/news/yangon-elevated-expressway-phase-one-cost-800-million.html