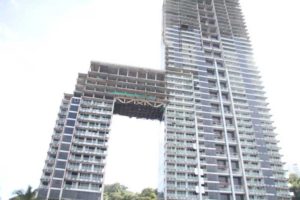 Pattaya's ghost tower eyesore discussed yet again – demolition experts consulted
Pattaya's infamous Water Front condo development is once again in the news.
After ten years of dithering, court orders and failure to successfully conclude the issue Sophon Cable TV reported that eleven companies have been consulted regarding demolition of the structure.
The development was first permitted in 2008 and building proceeded for five years until it was discovered that planning permission had been flouted.
Building was initially stopped in 2013 but the matter was in and out of the courts until 2017 when a demolition order was issued.
A court challenge stayed this in 2018 as City Hall tried to reinstate it and have the building knocked down.
Finding someone who is prepared and able to demolish such a large building has proved problematic.
Now 11 private companies are being consulted who may be able to finally rid the skyline of one of Pattaya's most infamous eyesores.
However, court battles remain and the issue is unlikely to be resolved any time soon.
Source: Thaivisa & Sophon Cable TV