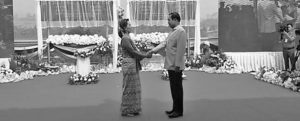 Myanmar and Thailand sign a memorandum of understanding (MoU) for Myanmar-Thai Friendship Bridge 2 (Myawaddy-Mae Sot)
04 October 2019
Myanmar and Thailand signed a memorandum of understanding (MoU) on October 2nd aiming for management, maintenance and utilization of Myanmar-Thai Friendship Bridge 2, according to the Ministry of Construction.
Construction Minister Han Zaw said that the bridge lied on the East-West Economic Corridor connecting Vietnam's Da Nang City and Mawlamyaing Township, Mon State, in Myanmar. It would promote cross-border trade, investment, tourism and cultural exchange.
State Counsellor Daw Aung San Suu Kya and Thai Prime Minister Prayut Chan-O-Cha opened the Myanmar-Thai Friendship Bridge 2 (Myawaddy–Mae Sot) on March 19th.
"The Bridge is the result of working together to benefit both sides. Myanmar-Thai diplomatic relations were established since on August 24th of 1948. Both sides had maintained and valued friendship, good neighborliness and mutual understanding," said the State Counsellor.
The bridge is linking Mae Sot district in Thailand's Tak province with Myawaddy Township, a border town of Myanmar. A second Mae Sot Boundary Post was also opened alongside the bridge.
The two countries began survey work for construction of the bridge in May 2012 and the stake driving ceremony was held on August 30th of 2015. Construction of the 3.9 billion Baht, 270 meter long bridge took four years.
Source: https://elevenmyanmar.com/news/mou-signed-to-manage-maintain-and-use-of-myanmar-thai-friendship-bridge