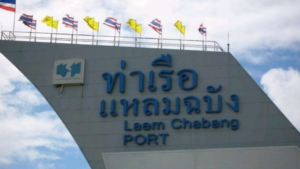 Laem Chabang set to be cutting-edge 'green' port
PTT Plc is confident the Laem Chabang deep-sea port in Chon Buri will become a model for "green" ports in the country.
Noppadon Pinsupa, COO of PTT's Downstream Petroleum Business Group, said yesterday that GPC International Terminal, which won the bid for the third phase of the deep-sea port's development, is expecting to receive the area for development from the Port Authority of Thailand in 2025.
PAT is in the process of reclaiming the land needed for the port's construction.
PTT, through its subsidiary PTT Tank Terminal Co, is part of the consortium deveoping the port, along with Chec Oversea Infrastructure Holding Pte, Ltd.
"Once the area is handed over, construction will take about two years. We will develop the sea port to be a 'green port'," he said, highlighting the renewable energy sources that will provide power and the electric vehicles and machinery that will support operations.
Once the third phase is completed, Laem Chabang will be able to accommodate the largest cargo ships, and exploit cutting-edge technology and automation, said Mr Noppadol, who added there will also be efficient logistics integration with the Eastern Economic Corridor (EEC).
source: https://www.bangkokpost.com/thailand/general/2683833/laem-chabang-set-to-be-cutting-edge-green-port