Thai retailer readies army of modern toilet installers
Boonthavorn trains staff to make sure the water-saving bidets work
As Thailand undergoes a hotel and condominium building boom, modern, high-quality toilets are an essential part of every project. One company, Boonthavorn Group, is there to meet demand, and not just for toilets themselves, but for training workers at its own technical school to install them so the toilets work the way they are supposed to.
Realizing that the quality of its water-saving, auto flush, electronic bidets would be compromised if they are not installed properly — with leakage and bad pipe connections the result — the company decided to train workers itself. It founded Boonthavorn Technology College in Pathum Thani Province north of Bangkok a decade ago from a program it had set up to train workers.
"Plumbing skills have tremendous impact on water fixtures in households, but we realized we can't always find plumbers skilled in laying pipes and installing toilets if we rely on construction companies," said Sitthisak Tayanuwat, a Boonthavorn executive director and founding family member. "My father launched the training center, anticipating demand growth 10 years and 20 years later."
The college now accepts about 80 students per year. About half of the graduates join the company immediately after graduation. Many of the students enroll after junior high school and learn how to install and repair pipes and toilets over two or three years. In the third year, they undergo on-the-job training.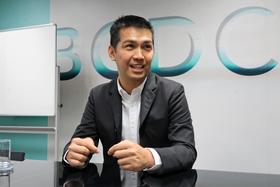 Sitthisak's father, Wiwat Tayanuwat, founded Boonthavorn Group in 1977, developing it into one of Thailand's leading home improvement retail chains. With 12 outlets, it has played a key role introducing high-quality toilets in the country.
In addition to toilets, Boonthavorn sells a home furnishings such as flooring, tiles, kitchen supplies, electrical products, paint and tools.
The major suppliers of modern toilets include foreign manufacturers such as American Standard of the U.S., Japan's Toto, and Cotto, the leading domestic brand.
Both Cotto and American Standard have strong brand recognition and compete over design, price and features such as low-stain and anti-bacterial materials and automatic flushing.
Cotto's parent, Siam Cement group, is one of Thailand's biggest businesses. American Standard also has a long history in the country.
Toto's appeal is its reliable technology and functional designs. But compared to rivals, its designs may lack the flair that Thai consumers prefer, Sitthisak said.
Anticipating growth in demand for home-improvement products in areas outside Bangkok where a half of the chain's outlets are located, Boonthavorn plans to open five new outlets by 2019, four of these away from the city, he said.
To support this growth, the company has expanded its technical school, completing construction of a second building late last year. Since January, the building has been used for workers to improve their skills, rather than for school's enrollees, Sitthisak said.
Source: https://asia.nikkei.com/Business/Companies/Thai-retailer-readies-army-of-modern-toilet-installers