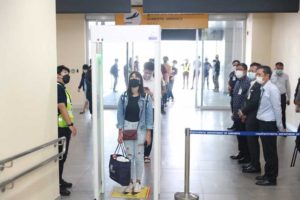 Khon Kaen tests its new international airport terminal and provincial governor gives stamp of approval
SEE ALSO: Khon Kaen's New Airport Terminal To Open In April 2021
Naew Na were in Khon Kaen on Sunday where provincial governor Dr Somsak Jangtrakul and local dignitaries paid an inspection visit to the international airport.
The new terminal there – Terminal 2 – is now 95% complete and they were conducting a trial reopening now that domestic flights have resumed.
They were there when Vietjet VZ 216 arrived from Suvarnabhumi airport.
Strict measures to prevent Covid-19 were in place and the governor expressed his satisfaction with what he saw.
Source: Aseannow.com