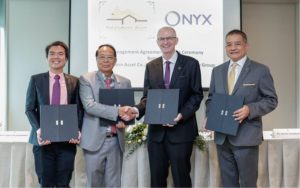 ONYX Hospitality to open 3 new hotels in Pattaya, Thailand
24 September 2019
Bangkok-based ONYX Hospitality Group has signed a management agreement with leading Thai real estate company Ratanakorn Asset for three new hotels in Eastern Thailand.
The hotels will represent all three of ONYX Hospitality Group's core brands – Amari, Shama and OZO – adding 773 rooms and suites to the company's expanding pan-regional portfolio.
The planned new-build hotels include the 400-key Amari Jomtien Pattaya, 250-key Shama Wongamat Pattaya and 123-key OZO Pratumnak Pattaya.
Amari Jomtien Pattaya will occupy a mixed-use beachfront site in Na Jomtien towards the south of Pattaya city, with direct access to a community retail mall. Located in a 30-storey tower with contemporary Thai-inspired design, this hotel will offer all the signatures of Amari including the market-inspired Amaya Food Gallery, Breeze Spa with treatments featuring iconic local botanicals, and service from Amari Hosts. Other facilities include a specialty restaurant, executive floor and lounge, and beach club. Scheduled to open in 2024, the hotel will also offer extensive events and meetings facilities, including a ballroom for up to 1,000 persons cocktail-style supported by a variety of smaller function rooms.
Shama Wongamat Pattaya, located on a sea view site in North Pattaya, will feature 250 residential-style units in studio, one-bedroom and two-bedroom apartment configurations. The property will feature an all-day dining restaurant complemented by a guest lounge, pool, garden and gym. The property will also benefit from key Shama signatures including allocated housekeepers for residents on longer leases, and the brand-wide 'no boundaries' lifestyle program offering orientation 'hood tours' to familiarize guests with the local culture, nearby lifestyle venues and amenities, activities which connect residents within the friendly community, and recommendations to the hidden gems of the area. Shama Wongamat Pattaya is scheduled to open in 2025.
OZO Pratumnak Pattaya will open in 2022 as a 123-room hotel designed to offer a buzzy and zesty ambiance in the public areas, and peace and quiet upstairs. Built to help savvy travelers sleep, connect and explore the best of the immediate area, all guest rooms will highlight the essence of the locality with a signature feature wall inspired by a nearby landmark, functional layouts and distinct space for getting prepared, snoozing and relaxing as well as staying connected.
Douglas Martell, President and Chief Executive Officer, ONYX Hospitality Group, said: "Pattaya is the birthplace of the ONYX Hospitality Group growth story, and where our first hotel was launched close to half a century ago. It is with great excitement that we expand our reach in this key Thai destination, with all three of our core brands being represented in this partnership with Ratanakorn Asset. As Thailand's east coast evolves to become the leading destination for both international and domestic travel with planned road, rail and air infrastructure enhancements and investment in the Eastern Economic Corridor initiatives, we look forward to being one of the prominent hospitality players in this growing region."
Jugkarut Ruangratanakorn, Managing Director, Ratanakorn Asset Co. Ltd., said: "A major investor in hospitality with an active pipeline of the hotel and serviced apartments projects with leading international and regional operators, we are committed to expanding our portfolio in the fast-developing Eastern Economic Corridor. We have witnessed and admired the expansion of ONYX Hospitality Group across Thailand and the Asia-Pacific region, and look forward to working with them in bringing the brand propositions of Amari, Shama and OZO to life with the opening of these upcoming Pattaya properties."
Based in Bangkok, ONYX Hospitality Group has a growing regional portfolio of close to 50 operating properties across three core brands in eight countries. The Group has a robust development pipeline of over 20 new properties in markets such as China, Malaysia and Laos, and has set a target of having 99 hotels open by 2024 as part of its journey towards being the best medium-sized hospitality player in the region.
Source: https://ftnnews.com/accommodation/37853-onyx-hospitality-to-open-3-new-hotels-in-eastern-thailand