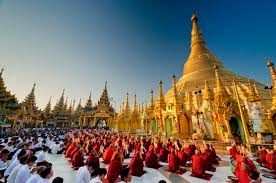 Critical Construction Work to Be Exempted From Mynmar's COVID-19 Lockdown across Yangon Region
YANGON—Construction work deemed to be critical at building sites across Yangon Region will be allowed to continue during the COVID-19 lockdown, according to the regional Construction Works Supervisory Committee. Such work is estimated to account for about 10 percent of building activity at the region's current construction projects.
Most construction activity has been suspended in Yangon during the lockdown, but as certain critical tasks have to be done at a particular point in the construction process, including roofing, digging bored piles and putting up girders, the committee has given permission for such work to continue, said member U Myo Myint.
"It is not 10 percent of construction sites, but 10 percent of [total] construction work that needs to proceed without interruption, such as casting bored piles to construct a bridge," he said.
Construction sites that meet the requirements must seek approval from the regional Construction Works Supervisory Committee, according to the Myanmar Construction Entrepreneurs Federation (MCEF).
However, the MCEF still advises construction sites to suspend operations if possible, even if they meet the committee's requirements for continuing work.
U Nyan Myint Myat, the director of a construction firm based in Yangon, said, "There are construction works that can't be halted in the rainy season, such as underground processes, basement construction and deep excavation. Those tasks need to be done in a timely manner. And there are serious consequences if we fail to do them in a timely manner. So it is good that we are allowed to do such necessary work."
However, he said he was not clear about the application procedures for seeking approval from the supervisory committee. "I wonder if applications can be submitted online. It would be better if the process is simple," U Nyan Myint Myat said.
Currently, only the Construction Ministry has asked for permission to continue with critical construction work, on bridges across the Yangon and Bago rivers. No private companies have applied so far.
The Central Committee for Prevention, Control and Treatment of COVID-19 said such construction work must be done in line with the rules and regulations issued by the Ministry of Health and Sports.
As of Wednesday evening (07.10.2020), Myanmar had reported 21,433 COVID-19 cases with 511 deaths and 6,084 recoveries.
Source: https://www.irrawaddy.com/specials/myanmar-covid-19/critical-construction-work-exempted-yangons-covid-19-lockdown.html