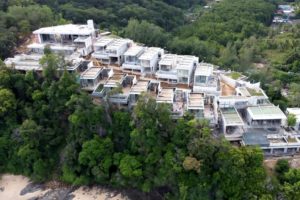 As Phuket gears up to reopen, bargain hunters and Chinese buyers eye property and investments
Phuket remains high on the list for those on the lookout for a second home and business opportunities in a post-coronavirus world
There are heavily discounted homes and even entire resorts, while one property firm has recorded a 38 per cent increase in interest from China
Phuket remains high on the list for property buyers on the lookout for a second home in a post-pandemic world, but local developers say it could take years before the hospitality and property sectors that largely rely on international visitors and buyers recover.
Thailand's most famous island is gearing up to reopen on July 1, with quarantine-free entry for vaccinated travellers.
Despite record cases in the kingdom since the start of the third wave of Covid-19 in March – more than 36,000 cases were detected in April, and there were 51,000 logged during May 1-19 alone – Phuket is adamant about reviving its status as the region's top holiday destination and is accelerating the vaccination programme for locals and tourism workers on the island.
Vachira Phuket Hospital director Chalermpong Sukontapol said 450,000 Phuket residents would be vaccinated by June, while expats living on the island would start receiving the vaccines at the end of this month.
The province has also stepped up safety measures ahead of the reopening. The Civil Aviation Authority of Thailand on Wednesday said passengers bound for Phuket must show that they have received two doses of a Covid-19 vaccine, or a negative coronavirus test 72 hours before boarding the flight. Those who arrive overland and fail to declare either of these must undergo a two-week quarantine.
The island, situated in the Andaman Sea in Thailand's west, has experienced a year of coronavirus-induced economic setbacks, with its beaches, bars and hotels left largely vacant as tourist numbers slumped by 80 per cent last year.
But there are signs of a rebound in one of Phuket's major sectors: property. The island has long been a destination for foreign visitors, many from Russia or other European countries, looking to buy retirement or holiday homes or invest in buy-to-let properties such as villas or condominiums.
In a report released this month, Shanghai-based property technology company Juwai noted that Chinese buyer inquiries for Thai property increased 38 per cent in the first quarter of 2021 from a year earlier.
"This increase is exaggerated due to the free fall of a year ago, during the pandemic's onset, but is nonetheless a welcome trend," it said.
Nasupha Suwansri, vice-president of real estate agency IQI Phuket, a Juwai subsidiary, echoes this sentiment – partly, she said, because many properties in Phuket had to end last year with distress sales, a situation in which a proprietor has to accept a lower price.
Read more at: https://www.scmp.com/week-asia/economics/article/3134458/phuket-gears-reopen-bargain-hunters-and-chinese-buyers-eye