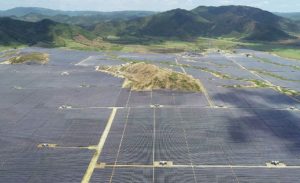 Asian Development Bank provides $186m loan to solar power plant in Vietnam's Phu Yen province
The Asian Development Bank (ADB) has provided a $186 million loan to renewable energy firm Phu Yen TTP Joint Stock Company to develop a 257 megawatt (MW) solar power plant in southern Vietnam, marking the country's first certified green loan.
Green loans are used to fund new or existing projects that deliver environmental or climate-related benefits.
The financing for Phu Yen TTP comprises a $27.9 million loan funded by ADB, a $148.8 million syndicated loan (B loan) funded by commercial banks with ADB as lender of record, and a $9.3 million loan provided by the Leading Asia's Private Infrastructure Fund (LEAP), according to a statement.
The B loan is also the first green B loan in Asia and the Pacific certified by the Climate Bonds Initiative, and one of the largest B loans raised in Vietnam. Participating commercial banks include Bangkok Bank, Kasikorn Bank, Kiatnakin Bank, Industrial and Commercial Bank of China and Standard Chartered Bank.
Phu Yen TTP is a joint venture set up by Thailand's B.Grimm Power Public Company Limited and Vietnamese diversified group Truong Thanh Vietnam. The Thai listed energy major acquired an 80 per cent stake in Phu Yen TTP for $35.2 million in 2018.
"ADB is committed to supporting B.Grimm, one of our most valued clients in the region, with its long-term expansion into Vietnam and its important work in renewable energy," said infrastructure finance division director for East Asia, Southeast Asia, and the Pacific at ADB's Private Sector Operations Department Jackie B. Surtani.
"This project will support the rapid development of solar power capacity in Vietnam, advance the country's low-carbon growth goals, and, we hope, catalyze further commercial bank financing for renewable energy."
The project, located in Phu Yen province, is the largest single operating solar power plant in Vietnam, and one of the largest in Southeast Asia, according to ADB.
The power plant will help reduce 123,000 tonnes of carbon dioxide annually – it directly serves the electricity demand of Quang Ngai and Nha Trang cities and surrounding areas in a region emerging as one of Vietnam's key tourist centres.
"This transaction will support the development of clean and sustainable energy in Vietnam and help promote the green loan market in Southeast Asia," said B.Grimm Power president Preeyanart Soontornwata.
High rates of economic growth, industrialisation, and urbanisation have led to growing electricity demand in Vietnam, which has become the second-largest power market in Southeast Asia, after Indonesia, ADB said in a financing proposal in April this year.
The country estimates it will need to invest about $148 billion in power transmission and generation infrastructure until 2030, and seeks to increase the share of renewable energy as a percentage of total forecast installed capacity to 21 per cent by then.
Truong Thanh Vietnam, which was established in 2012, owns equity interest in three operating solar farms with a total capacity of 357 MW in Vietnam, and is also implementing wind and rooftop solar projects.
Source: https://www.dealstreetasia.com/stories/adb-phu-yen-210706/