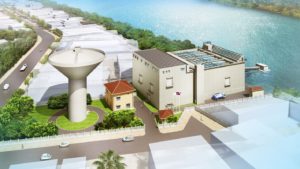 Consortium Led by Kubota Construction Wins Contract for the Project for Expansion of Water Supply System in Ta Khmau, Cambodia
A consortium led by Kubota Construction Co., Ltd. (a wholly owned subsidiary of Kubota Corporation; Head Office: Naniwa-ku, Osaka, Japan; President and Representative Director: Mutsuo Uchida; hereinafter "Kubota Construction") has won the contract to undertake the Project for Expansion of Water Supply System in Ta Khmau, a city in Kandal Province in the Kingdom of Cambodia.
Ta Khmau is the capital city of Kandal Province, which lies directly to the south of the national capital Phnom Penh. Its water is sourced from a water treatment plant in Phnom Penh, but with growing population demand for water in both cities is increasing rapidly, and expansion of supply capacity has become an urgent priority. To address this issue, the consortium will construct a new water treatment plant in Ta Khmau under this project to boost supply capacity as well as to reduce the strain on the existing plant, thus ensuring a stable supply of water in both Phnom Penh and Ta Khmau long into the future.
Within this project, Kubota Construction will be responsible for procurement and construction related to the civil engineering and construction works, as well as procurement of raw water intake facilities and distribution pumps.
The project will be conducted under the Japanese government's Grant Aid with Operation and Maintenance scheme, which utilizes capital and technology from Japan's private sector in order to enable more efficient construction, operation, maintenance, and management of facilities.
Source: https://www.kubota.com/news/2022/20220323.html