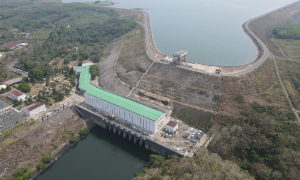 Biggest power plant in southern Vietnam, Tri An hydropower plant in Dong Nai Province to be expanded to 600 MW
The 400-MW Tri An hydropower plant in Dong Nai Province is set to have its capacity expanded by 200MW at a cost of VND3.9 trillion ($170 million).
Work on southern Vietnam's biggest power plant will begin in the second quarter of next year and be finished in 2026 under an agreement signed between state power utility Vietnam Electricity (EVN) and Dong Nai.
Two more turbines of 200 MW would be installed, according to EVN.
The province will hand over 94 hectares for the construction, including 40 ha of forests whose land-use purpose has already been amended, relocating 50 households.
It will also build a new bridge over the Dong Nai River to replace a ferry and make it easier for transporting construction materials for the project.
The plant on the Dong Nai River in Vinh Cuu District, 65 km from HCMC, was built in 1991.
It has four 100-MW turbines.
Tri An is the sixth-largest hydropower plant in Vietnam. It appears on the VND5,000 cash note.
Source: https://e.vnexpress.net/news/news/biggest-power-plant-in-southern-vietnam-to-be-expanded-to-600-mw-4442927.html