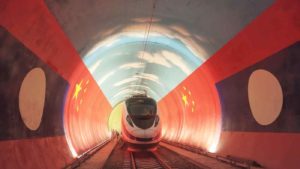 China-Laos railway begins with limited service on on Friday 03 December 2021
Southeast Asia's first high-speed link to stop at Chinese border for now
The China-Laos high-speed railway kicked off operations on Friday, and although the first passenger run will be made through Laos on Saturday, it remains unknown when cross-border service between the countries will begin.
The railway was built by a Chinese state-owned company, with China bearing 70% of all construction costs, which came to $6 billion, equivalent to one third of Laos' gross domestic product. Once construction began in December 2016, work proceeded smoothly in the one-party Southeast Asian nation.
The first train departed Vientiane Station at 3:45 p.m., carrying Laotian ministers to Vang Vieng, a tourist site in central Laos.
A Buddhist ceremony was held in Vientiane on Thursday to celebrate the railway's opening.
The Chinese-made bullet train, named Lane Xang, features the red, white and blue of the Laotian flag. It is equipped with first- and second-class cars as well as a dining car. Its seven carriages have 56 first-class seats, 662 second-class seats and two handicapped seats, according to Lao National Television. "Lane Xang" means 1 million elephants; it is also the name of an ancient Laotian kingdom.
The Lane Xang maxes out at 160 kph, much slower than China's Beijing-Shanghai high-speed trains, which run at 350 kph, or Japan's shinkansen, which can reach 320 kph. Still, one Vientiane resident calls it a "high-speed dream."
Laos has one other railway — a link to Thailand that stretches 3.5 km.
The dream railway will eventually stretch about 1,000 km, from the Laotian capital to Kunming, in the Chinese province of Yunnan. The leg that runs through Laos stretches about 420 km, from Vientiane to the town of Boten, on the border with China. The ancient capital of Luang Prabang is along the route.
The tracks that cover Laos go over 167 bridges and through 75 tunnels. Much of the railway is surrounded by mountains and rivers. Of the 33 stations that line the route, 10 are passenger stations. It used to take an entire day to bus from Vientiane to Boten, but the million elephants can make the trip in about four hours.
Vientiane Station, the biggest station and starting point in Laos, has three platforms and can accommodate up to 2,500 passengers, according to local media. The train cars have Chinese designs and signs that are written in Laotian and Chinese.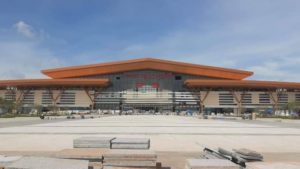 "The station's main building takes the Chinese traditional ancient architecture stretch ratio as the benchmark, and combines the environmental characteristics of Vientiane with the Chinese classic architecture's door style," China's state-owned Xinhua News Agency reported. Train and station announcements are made in Laotian, Chinese and English.
A one-way ticket from Vientiane to Boten runs from 333,000 kip to 529,000 kip ($30 to $48). This is not cheap in a country where the minimum monthly wage is shy of $100.
On Wednesday, two days ahead of the maiden voyage, the Laos-China Railway Co. announced that tickets can be purchased at a station three days before the departure date. Ticket buyers must show their identification and vaccination certificates.
Many Laotians seem to welcome the railway's launch. "It's good for our country to have another means of transportation," said Hongphakaiphone Orahnamvong, a 35-year-old office worker. "And I want to get on it at least once in my life. I want to go to Kunming, but I think I will first visit Vang Vieng."
State-owned media have been actively reporting on the upcoming launch, touting it as an "accomplishment" for the single-party state.
It was also on Wednesday that the operator announced passenger service will start on Saturday. There will be two round trips a day. The first train leaves Vientiane at 8 a.m. and arrives in Boten at 11:30 a.m., returning to the capital at 3:14 p.m. The second run leaves Vientiane at 3:44 p.m. and arrives in Luang Prabang at 5:46 p.m., returning to the capital at 10:22 p.m.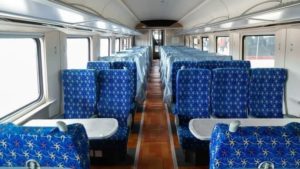 Because of the pandemic, trains will not carry passengers across the Laos-China border. According to Chinese media, only freight trains will cross the border, at least for the time being.
The project has endured numerous problems, and the operator and security authorities are asking people to obey rules to ensure safe operations.
In addition, the Laos-China Railway Co. has been taking to Facebook and other social media platforms to inform people about railroad rules.
A company representative has asked people not to climb fences and to stay at least two meters away from the tracks for their own safety.
Some signs read as follows: "Do not throw objects onto the overhead power supply." "Do not urinate on the transmission line near a railway bridge." "It is strictly forbidden to burn grass or trees, release livestock or plant crops or trees within the secure railway corridor as doing so could affect the safety of the tracks and the running of trains." And, "Persons who are not railway personnel are strictly prohibited from entering inside the railings and railway substations; playing with animals or standing in the rain on the railway is also prohibited."
The theft of railway parts has been a serious problem. A man was arrested by police in Vientiane in September on suspicion of trying to sell a vast amount of stolen bolts. Another man was electrocuted in October after trying to cut railway cables.
Security authorities have emphasized the risk of stealing railroad parts, warning scrap metal dealers not to engage in suspicious transactions.
Additional reporting by Shunsuke Tabeta in Beijing.
Source: https://asia.nikkei.com/Politics/International-relations/China-Laos-railway-begins-with-limited-service2