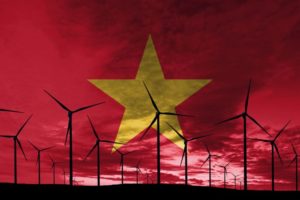 Vietnam leads the pack in Southeast Asia as wind power projects surge
Vietnam is leading the pack in Southeast Asia for wind power installations with 3.98GW installed as of October, up from 103MW in 2020. The country now ranks among the global top ten markets for installed wind power capacity, even though its offshore sector has yet to lift off.
Significantly, it is the first time an Asian market, other than China and India, has made the top ten, Liming Qiao, head of Asia at the Global Wind Energy Council (GWEC), told the Vietnam Wind Conference earlier this week.
It is a historical moment for Vietnam, as it is not only the leader of wind installations in Southeast Asia, but it has also become the second biggest market in Asia Pacific, behind China, added Qiao.
"Remember most of the 4GW we see installed today in Vietnam is coming from onshore and a small fraction from intertidal. The real offshore wind market has yet to take place and it will only happen after 2025. A whole new market segment has not really started. There is an immense opportunity in front of us," she said.
Vietnam is endowed with great wind resources both onshore and offshore and is likely to be the first GW size offshore market in Southeast Asia by 2030.
Net zero became a buzz word in Vietnam in November, after the Prime Minister made a commitment at COP26 to hit net zero by 2050 and phase out coal by 2040. This will provide even more momentum for wind power development, said Qiao.
Vietnam published its latest draft Power Development Plan VIII (PDP VIII) for 2021-30 in mid-November. The plan is targeting 17 GW of onshore wind power by 2030 and 4GW of offshore wind power. However, GWEC believes 5-10 GW of offshore capacity is a realistic goal by 2030.
Between 2030 and 2045, Vietnam is targeting 38 GW of onshore wind power – or 1.4GW per year during the 15 year-term. It has also penciled in 36GW of offshore wind power during the same period – or 2.1GW per year.
"We are happy to see these numbers. They are the most ambitious PDP targets so far, but not ambitious enough," Qiao told delegates.
"The key message is that the net zero concept is enabling us to think big and be more ambitious for the future," she added.
By the end of 2021, Vietnam will have a total of around 4GW of wind capacity installed.
Wind power has significant room for growth in Vietnam as a scalable alternative to the expansion of thermal coal, which provides the bulk of the country's power. "Vietnam enjoys enviable natural potential for wind capacity, with 3,000 kilometers of coastline and winds that blow from 5.5 to 7.3 meters per second. The biggest opportunity for massive wind-power generation sits offshore," reported McKinsey, a consultancy.
According to the World Bank, estimates of Vietnam's offshore wind potential range up to 500 gigawatts. By comparison, Germany, a leader in wind power, currently has about 62 gigawatts of total installed wind capacity, of which about eight gigawatts are offshore, added McKinsey.
Source: https://www.energyvoice.com/renewables-energy-transition/369816/vietnam-leads-the-pack-in-southeast-asia-as-wind-power-projects-surge/