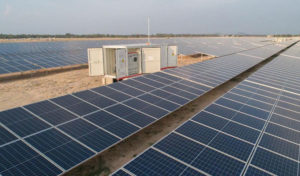 Cambodia's third solar power station joins national grid
The Kingdom's third solar power station came online last Friday in Kampong Chhang province, according to Electricite du Cambodge (EDC), a leading power supplier in the country.
Located in the Toek Phos district, the plant will generate a further 60 mW of power to help meet increasing domestic need.
Privately owned Cambodian company SchneiTec Renewable Co., Ltd were granted the contract by the government on a "build-own-operate" (BOO) basis. A public-private partnership project, this is where a private organisation builds, owns and operates a facility with government rules.
EDC have purchased the power generated by the station under a long-term agreement. Consumer tariff price has yet to be set, but SchneiTec Renewable Co., Ltd are legally required to sell at less than $0.076 per kilowatt hour (kWh) to EDC.
The first operational solar power station, heavily invested in by the Singaporian company Sunseap, is located in Svay Rieng province and generates 10 mW of power to the national grid.The second 80 mW facility, a collaboration between JinkoSolar and SchneiTec Group, is in Kampong Speu province.
In 2019, the government gave the go-ahead for the construction of four solar power plants to generate a total of 140 mW to the national grid. Victor Jona, director-general of Energy at the Ministry of Mines and Energy, said that work on the final plant, a 60 mW project, also in Kampong Chhnang province, is now underway. "We expect that the four solar facilities will be generating power to the grid by early 2021," he said.
Thai-based private equity firm Prime Road Alternative Company Ltd won the contract for the fourth plant after lodging the lowest bid of electricity price at $0.03877/kWh.
Source: https://www.khmertimeskh.com/50712430/third-solar-power-station-joins-national-grid/