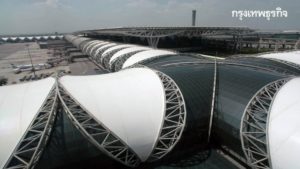 Airports of Thailand to spend Bt393 billion on expansion of six airports
By THE NATION
Airports of Thailand (AOT) will spend Bt393 billion on the expansion of six airports as part of its investment plan for 2017-33, the company's president, Nitinai Sirismatthakarn, said.
The plan, already approved by the board, aims to boost the airports' capacity to serve a total of 243.7 million passengers.
The budget covers the construction of a passenger terminal in the north of Suvarnabhumi Airport, which will boost the airport's capacity by another 40 million passengers per year.
It also covers phase 3 of Don Mueang Airport's expansion and phase 2 of the Chiang Mai Airport expansion.
He added that AOT could afford the huge investment, due to its financial strength.
Presently, AOT runs six international airports: Don Mueang, Phuket, Chiang Mai, Hat Yai, Chiang Rai and Suvarnabhumi.
Source: https://www.nationthailand.com/business/30378403