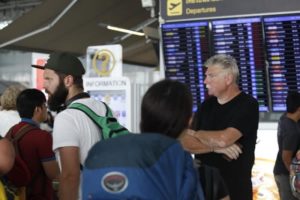 Airports of Thailand to proceed with Terminal 2 located north of Suvarnabhumi Airport
Airports of Thailand Public Company Limited (AOT) is to proceed with the construction of Terminal 2, north of Suvarnabhumi Airport, following a controversy about the building's structural design, stressing that the original development plan can't accommodate the increasing number of passengers. The AOT will submit a new plan to the board on November 20.
AOT President, Nitinai Sirisamatthakarn announced today that the AOT had heard the views of the relevant parties in accordance with the order of Transport Minister Saksiam Chitchop. The AOT will proceed with the construction of the annex in the north to solve the congestion problem at Suvarnabhumi Airport, as Passenger Terminal 1's number of passengers has exceeded its capacity. The construction is in line with the 4th development master plan in accordance with the recommendations of The International Civil Aviation Organization (ICAO) which requires that it be renovated every five years in accordance with the passenger situation. The AOT has already prepared the 5th development master plan.
The annex, when completed, will be able to accommodate 82 million inbound and outbound passengers, up from the current 65 million passengers, and will help solve traffic congestion at the passenger terminal, along with the lengthy passport inspection process.
The AOT will submit the plan to the board on November 20 before it is forwarded to the Ministry of Transport, the Office of the National Economic and Social Development Board and the cabinet respectively. If there are no obstacles, the annex is expected to open around 2023-2024.
See earlier article: Thailand's proposed new 2nd Suvarnabhumi terminal 'won't benefit users' says Association of Siamese Architects
Source: ThaiVisa & NNT