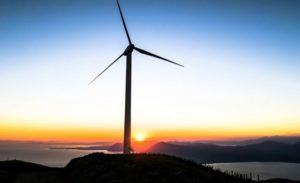 AC Energy to build Quang Binh Wind Farm in Vietnam
AC Energy Inc. is on a roll in expanding its renewable footprint as the Ayala Group's power generation arm is constructing a wind farm in Vietnam with local partner AMI Renewables Energy Joint Stock Co.
In a statement on Thursday, AC Energy said the Quang Binh Wind Farm, which will have an aggregate capacity of 210 megawatts (MW), is the largest wind farm in Vietnam.
SEE ALSO: AC Energy Investing In New Wind Power Plant In Vietnam
Located in the coastal area of the Quang Binh province, the latest wind project will be developed in two phases consisting of 109.2 MW and 100.8 MW, with firm orders issued to the wind turbine supplier for both phases.
AC Energy will bankroll the wind facility's construction.
With the aim of qualifying for the current round for wind feed-in-tariff of 8.50 US cents per kilowatt hour (kWh), the project is set to be commissioned in the third quarter of 2021.
"We continue to transition to a low carbon portfolio and work towards our goal of reaching 5,000 MW of renewables capacity by 2025," AC Energy President and Chief Executive Officer Eric Francia said.
"As an ideal place for investing in renewable energy, with its ripe market for wind power and notable GDP (gross domestic product) growth, AC Energy sees Vietnam as a key market as it aims to be the one of the largest listed renewables platforms in Southeast Asia," AC Energy International Chief Operating Officer Patrice Clausse said.
The facility will utilize wind turbines from Vestas, which will supply, transport, install and commission a total of 50 4.2-MW wind turbines at a hub-height of 145 meter to optimize wind energy production.
In 2017, AC Energy and AMI Renewables formed platform company AMI AC Renewables to build renewable energy plants in Vietnam.
In April last year, both companies inaugurated two solar plants, the 50-MW Khanh Hoa and the 30-MW Dak Lak facilities.
AMI Renewables is targeting to develop and operate a renewable energy platform in Vietnam with a total capacity of 1,000 MW by 2025.
"The Quang Binh Wind Farm is an important milestone in the strategic plan execution of AMI AC Renewables," AMI Renewables Chairman Nguyen Nam Thang said.
AC Energy, with $2 billion of invested and committed equity in renewable and thermal energy in the Philippines and around the region, has committed to scaling up its renewable energy expansion in the region and has identified the Philippines, Indonesia, Vietnam, Australia, India and Myanmar as key target markets.
Source: https://www.manilatimes.net/2020/07/18/business/green-business/ac-energy-to-build-vietnam-wind-farm/742941/