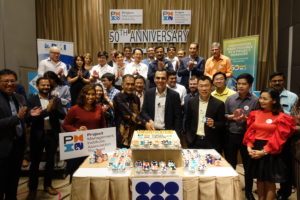 Introducing PMI Association Thailand Chapter
Introduction
The Project Management Institute Association Thailand Chapter is non-profit organization dedicated to spreading awareness about the use of PMI Standards and best practices in project management and delivery across all industries in Thailand.
Our Chapter is one of the 303 Chapters that the Project Management Institute (PMI) serves in more than 213 countries and territories around the world.
Background
The process of forming the PMI Thailand Chapter began in July 1999 with the approval of the Letter of Intent from PMI. Since then, a group of professionals within the project management profession have worked to make this chapter a reality. The Chapter completed the requirements to become a full-fledged PMI Chapter in September 2001 and received its Charter Plaque in November 2001. At that time, it was set up as a for-profit organization due to the complexities associated with establishing a non-profit unit in Thailand. In 2012, however, a group of volunteers, led by Dr. Petros Rigas, President of the Chapter, initiated efforts to transform the official registration of the Chapter from a for-profit business to a non-profit association registered legally in Thailand. These efforts culminated in the official registration of the PMI Thailand Chapter as a non-profit association on August 05, 2014.
Presently, the Chapter has more than 250 members, from within Thailand and many other countries. Our members represent more than 100 companies in the fields of telecommunications, information technology, oil and gas, engineering and construction, as well as Thai universities and government organizations.
Our Office
Much of what we do to keep the Chapter moving forward happens through our social media tools and access to services online. However, we do have a small office (rented facility) where we officially operate all our activities from. We use this office to facilitate all the virtual sessions (monthly lectures, workshops, PMP orientation sessions, others), receive calls, store books, and much of our accounting records. Our office is located at the below address:
200/05 Narathiwat Ratchanakarin Road
Chongnonsi, Yannawa
Bangkok 10120
Thailand
Our Methods of Operation and Finance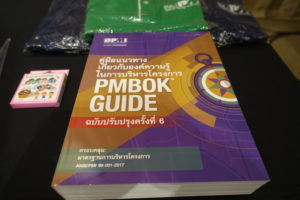 Our members elect a group of volunteers, who serve as the official board for the Chapter. This happens during our annual meetings organized during December of every year. This group of volunteers then leads efforts to establish a detailed program of upcoming events and workshops, manage the finances of the Chapter, create marketing events and campaigns to attract member interest, as well as all the work necessary to keep our website and social media content updated. Our activities are primarily financed through the membership program as well as the activities and workshops that we organize on a regular basis. Since establishing the Chapter as a non-profit organization, we've relied less on sponsorships and focused more on organizing events that add value to our members. The Chapter currently exists because of the continued support of our members and other professionals interested in our vision and values. The Chapter also operates an online bookstore that supplies PMI published content (including the Project Management Body of Knowledge (Thai edition) to various universities and bookstores in Thailand.
Our Vision
Over the years, our various working committees and volunteers have tried extensively to reach out to various government organizations in Thailand so as to help them realize the values our community provides. We know and we realize any government organization involvement with our Chapter will help to increase public awareness in Project Management generally and our Chapter (and activities) particularly. Failure is not in our Chapter's vocabulary and the strenuous efforts of our volunteers in the years that passed have not been wasted. More people know us today and more Thai organizations recognize us including government institutions. But we have yet to collaborate officially with one so that this recognition is taken to the next level. And that is when government agencies start recommending all companies, educational institutions, and non-profit organizations attain some form of project management certification through our institute or any one of our recommended Authorized Training Partners (PMI-ATPs).
Our Activities
We organize various types of activities:
– monthly lectures: whereby a project management practitioner prepares and shares their experience on any topic related to project management with members from our community.
– PMI Certificate orientation events: where our volunteers share their experiences and advise on earning any PMI-related certificate (including but not limited to PMP and PMI-ACP Certificates).
– Field trips: where members from our community visit project construction sites or any other site where they can observe project management in the workplace.
– Workshops: focused on developing the project managers' skills in various domains including but not limited to: technical skills, leadership skills, and strategic and business skills.
Methods to Reach Out and Resources:
Office Address:
PMI Association Thailand Chapter
200/05 Narathiwat Ratchanakarin Road
Chongnonsi, Yannawa
Bangkok 10120
Thailand
(66) 2 294 3354
https://www.pmithai.org