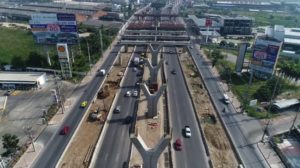 Big new road projects in Bangkok suburbs, Rama 2 special road set for completion in 2025
Bangkok Business News reported that the special expressway from Ekachai to Ban Paew along Rama 2 Road would take until 2025 before it was open.
The 16.4 kilometer stretch (Route 82) costing 18.7 billion baht had contracts signed yesterday and will take 1,080 days building.
The traffic build up in the area has meant great delays travelling from Bangkok to Hua Hin, notes ASEAN NOW.
Other details announced by the transport ministry concerned:
Rama 3 – Dao Khanong – Outer Ring Road – where an 18.7 kilometer section is being built.
Thonburi to Phak Thor 8.3 kms that is 57% complete.
and
Route 82 extension Ban Paew to Phak Thor (Ratchaburi) 47 kms that is altered to be finished by 2027.
Source: https://aseannow.com/topic/1248959-big-new-road-projects-in-bangkok-suburbs-rama-2-special-road-set-for-completion-in-2025/