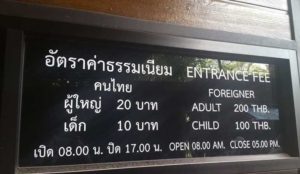 Time to scrap two-tiered pricing for foreigners in Thailand says Tourism Authority of Thailand spokesman
The Tourism Authority of Thailand is eager to scrap the controversial two-tiered pricing entry system that is in place at some national parks and tourist attractions in Thailand.
Speaking at the Foreign Correspondents Club on Wednesday, when asked by popular blogger Richard Barrow, Tanes Petsuwan, the Deputy Governor for Marketing Communications at TAT, said that "it does not make sense" to charge foreigners more than Thais.
Mr Tanes said TAT governor Yuthasak Supasorn had recently spoken to the Ministry of Natural Resources and Environment, the government department responsible for the national parks in Thailand, about the two-tier pricing issue.
Mr Tanes went on to say that while the country is waiting for the return of tourists it "is a very good time for Thailand to reform the tourism industry structure".
"What we did wrong [in the past] we must make it right this time, he added.
The practice of two tier pricing in Thailand sees foreigners, even expats who live and pay tax in Thailand, forced to pay much more than Thais to enter places such as national parks, museums and historical sites.
While some of the reduced entry fees for Thai nationals are the result of government subsidy, many two tier pricing policies are simply in place due to the idea that foreigners can afford to absorb the higher prices and therefore should pay more.
Those against the practice say not only is it discriminatory against foreigners, it is also largely futile as many foreigners are put off by the fact they have to pay more and therefore the overall number of foreigners to visit attractions where two tier pricing is in place is greatly reduced.
This means the attraction doesn't actually earn any more money and also gives foreigners a negative impression of the tourism industry in Thailand overall.
Two tier pricing isn't exclusive to Thailand.
From the Great Wall of China to the Taj Mahal to Machu Picchu in Peru, two tier pricing is also in effect at many of the world's most famous tourist attractions.
Best known for his excellent travel content and large social media presence, Richard Barrow also operates 2pricethailand.com, a website which highlights instances where two tier pricing is in place.
Source: ThaiVisa