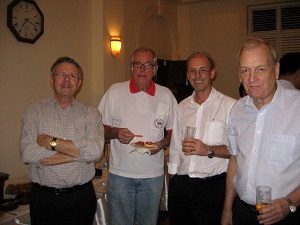 Society Of Professional Engineers In Thailand (SPET) Meeting 15 October 2020
Please find the attached flyer for the next meeting to be held at the British Club, Soi 18, Silom Road, Bangkok at 6.30pm on Thursday 15th October 202.
"The Implementation and Development of Remote Controlled and Autonomous Equipment in a modern Container Terminal" By  Richard Green M.Sc., D.I.C., C.Eng., M.I.C.E., M.I.H.T. 
Hutchison Ports (Thailand) Ltd. has implemented the use of remote controlled Quay Cranes and Rubber Tyred Gantry Cranes (e-RTGC) in its Terminal D development in Laemchabang Thailand. Six quay cranes and twenty electrically powered e-RTGCs have successfully completed commissioning tests and are now in full operation.
Six Autonomous Head Trucks are currently undergoing trials in Phase 1 of the Terminal D Development with a view to implementing this technology in the next Phase of Development at Terminal D.
Please advise Chris Moore by e-mail that you will be attending in order to gauge fluid matters.
Kindly respond by email to Christopher Moore spet.bangkok AT gmail.com OR chris AT lasanne.com or on 081-824-1648.
Best regards
Christopher Moore