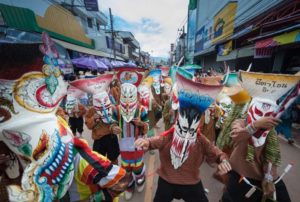 Thailand's proposed THB 500 Tourist fee starting in 2022 could be nail in coffin
Bangkok Post Editorial
Early last week, news surfaced that the Centre for Economic Situation Administration rubber-stamped a proposal brought by the National Tourism Policy Committee to collect a "small tax" from tourists entering the country, starting in 2022.
The fee, 500 baht, will be collected by the Tourism and Sports Ministry to "transform" the hard-hit tourism industry. The Tourism Authority of Thailand (TAT) estimates the country will earn 5 billion baht from the scheme in its first year, from 10 million international arrivals. How they came to that estimate is anyone's guess as there is still far too much red tape (quarantine, expensive PCR testing, and documentation) required to enter the country to lure package and short-stay tourists.
An earlier proposal had set the fee at 300 baht with the money to be used to maintain tourist sites, provide insurance benefits, and even free treatment to those who fall sick or are injured. However, that's been conveniently left out in the latest announcement with the government now claiming the money will be used on "projects that transform the industry by focusing on high-value and sustainable tourism". Again, what does that mean in practice? How does the government define sustainable tourism? There should be transparency about how and where the funds will be used to improve the industry. It's the least that tourists deserve, given that some used to frequent Thailand annually prior to Covid-19.
Instead, what we have are vague and conflicting statements. Regarding the fee, Yuthasak Supasorn, TAT governor, said "the additional cost won't have an impact on tourists as we want to focus on the quality market". Unless Mr Yuthasak is aware of the financial situation of each tourist or "quality market" is lingo for rich tourists who won't mind forking out extra cash, it's hard to see how it won't affect tourists, many of whom already feel squeezed at every opportunity.
Tourists, as well as tax-paying foreign workers in Thailand, already pay dual pricing at tourist sites (10x the normal rate) and at times even at hospitals. They are forced to pay much higher price for entering tourist sites such as museums, temples and historic sites, not to mention national parks. And let's not forget instances of when tourists are overcharged by some taxi drivers and restaurant vendors.
No details about how the fee will be collected makes the new rule all the more confusing. Unlike the departure fees at airports which is added to the price of airline tickets, this won't be possible in this situation as airlines have no way to prove who is Thai or a foreigner at the time of booking. The only options are to add the cost to the visa fee or create a separate collection zone upon arrival, which is not a welcoming environment for tourists. Adding bureaucratic steps that make a trip to Thailand more expensive rather than a stress-free holiday will deter tourists, not bring in more.
As the world begins to enter a post-Covid era, the international tourism market is poised for a sharp realignment. With a clean new slate, previously popular markets need to work hard to ensure they do not stagnate and decline while others might rise in popularity due to more welcoming policies. The government must remember that tourists are not loyal to any one market and that destinations can be all the rage one day and then sputter. Prior to Covid-19, Thailand was already experiencing stiff regional competition from Malaysia and Vietnam for tourists, but now, each of these markets is being challenged by low-cost alternatives in Europe and Latin America due to their open policies.
The government also needs to understand its tourism base. On the one hand, the country is poised to welcome back Indian tourists, who are still not being granted a certificate of entry, but it fails to realise that this is a price-sensitive market. Additional fees and hassles will drive them to other markets that still offer visa-free entry and no additional costs, such as Bali or Maldives. Backpackers were another big market and while they are not as price-sensitive, being unable to travel freely in the region coupled with restrictive policies such as curfew and closure of nightspots means most will look for alternatives as well.
The time has come for Thailand to decide the future course of its tourism industry. If it wants to focus on the high-quality market, it should forget lofty ideals of 40 million tourists. But the messaging put out now plays at both sides — the mass tourism and the upscale market. Unfortunately, there's no such thing as having your cake and eating it too and this fee could be the final nail in the coffin for an already struggling industry.
Source: https://www.bangkokpost.com/opinion/opinion/2195359/tourist-fee-could-be-nail-in-coffin