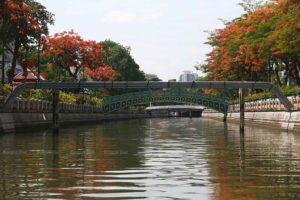 Full steam ahead for a Bangkok canal revamp
Capital waterway to get major upgrade
The Bangkok Metropolitan Administration (BMA) is continuing with its plan to improve the condition of the city's canals and their adjacent surroundings.
The BMA is currently conducring the landscape renovation of a 4.48km section of the 5.5km Klong Phadung Krung Kasem canal, Bangkok governor Aswin Kwanmuang said on Friday.
In a short-term plan, a 1.25km stretch of land along the canal, from Charoen Sawat Bridge to Kasatsuek Bridge in the Hua Lamphong area, will undergo landscape renovation first while the rest of the work will be broken up into five zones and later be carried out in a long-term development plan, he said.
The other five zones are Talat Noi, Bo Be, Nang Loeng, a cluster of government offices, and Thewes.
The pavement renovation work on the same side of Hua Lamphong railway station, from Charoen Sawat Bridge to Kasatsuek Bridge, is expected to finish by the end of this year, while the rest of the work in this zone will begin later next year, said the governor.
Along with this canal landscape renovation project, the Environment Department has begun improving 39 canals, cleaning up pavements along their banks, and growing trees along the pavements, he said.
The Traffic and Transport Department, meanwhile, has mapped out a plan for next year to expand electric boat services to cover more canals and install security cameras to improve security for visitors, he said.
Pol Gen Aswin also revealed that the walking street running along a 1.9km section of Klong Ong Ang is due to reopen next Friday.
As the Covid-19 situation has improved, the street will be open to the public from 3pm until 8pm every Friday, Saturday, and Sunday, he said.
Vendors permitted to sell their goods in the walking street area are now required to undergo a Covid-19 test weekly, while social distancing and mask-wearing will still be required from all visitors and vendors alike as standard Covid-19 control measures, he said.
A total of 15 kayaks are available for free use in the canal where visitors can enjoy kayaking for 30 minutes per person, he said, adding that there are several more activities to choose from.
Source: https://www.bangkokpost.com/thailand/general/2194979/full-steam-ahead-for-canal-revamp