Cambodian migrant construction return home ahead of Bangkoks' camp closures
Cambodian Workers Return Home
Cambodian workers crossed the border at the immigration checkpoint of this northeastern province to return to the homeland as Thailand started sealing off construction worker camps in Greater Bangkok and four southern border provinces today.
The Center for Covid-19 Situation Administration (CCSA) headed by Prime Minister Gen Prayut Chan-ocha decided to close infectious and high-risk areas including construction worker camps in Bangkok, Pathum Thani, Nonthaburi, Samut Sakhon, Samut Prakan, Nakhon Pathom, Songkhla, Pattani, Yala and Narathiwat for 30 days starting on June 28 to contain the spread of Covid-19.
Employers yesterday sent the workers back through the Chong Chom border crossing point in Surin's Kap Choeng district. Many cambodian workers were left along Kap Choeng-Chong Chom highway and local immigration police rushed into gathering them at the Surin immigration office and kept them away from general people. Despite strict disease control measures, five immigration police officers of Surin earlier contracted COVID-19.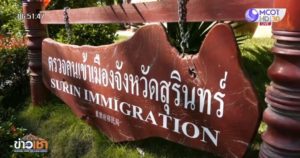 Surin immigration police said the number of Cambodian workers leaving the country through Surin on a daily basis started to double yesterday and most of them were construction workers. Police confined the outgoing migrants in a specific area throughout the process of their departure which also included COVID-19 tests.
Local immigration police asked employers to leave their migrant workers only at the Surin immigration office to support disease control and facilitate repatriation. (TNA)
Source: https://tna.mcot.net/english-news-726553
"Hundreds" of Cambodian migrant construction workers found wandering along the road ahead of Bangkoks' camp closures
Hundreds of Cambodian migrant workers were dropped at border checkpoints or even just forced onto the streets over the weekend without any further support, ahead of announced camp closures, a non-government organization said Monday.
"We received reports from the border-crossing point in Surin of the growing number of Cambodian workers rushing to return home," Human Rights Watch senior researcher Sunai Phasuk told Thai Enquirer.
The government said Friday it will seal off worker camps in Bangkok and neighbouring provinces, as well as four provinces in the south.
It was unclear whether the workers thronging the checkpoints had been sent by employers or government agents, Sunai said. In addition, "hundreds more Cambodians were found by the side of the road, who hadn't even been taken as far as the checkpoint," he said, citing officials at the border.
"They were basically just left there on the streets to make their own way to the checkpoint, which was the trigger point that I posted on Twitter."
The Human Rights researcher took to his Twitter of over 74k followers on Sunday evening to express his concerns.
The migrant workers are now in quarantine and being screened for Covid-19 in migrant worker camps.
Left by their employers to fend for themselves over the weekend amid the latest wave of coronavirus infections, many are scared for their lives.
In addition to the panic, "they are now being targeted and stigmatized, as causing the recent outbreak," Sunai said.
Thai authorities should be better prepared to help these people "instead of blaming them and just locking them up," he said.
The crisis will probably mean many will have no job to go back to, or maybe only for half their previous wages, he said. Aside from the loss of livelihood, they are facing immediate hardships in overcrowded and unsanitary camps.
The camps are not made for long-term accommodation, Sunai said. During the day it is like "being inside a metal oven."
"So of course, once they knew from Prayut's announcement that they would be locked up, they got scared," said Sunai.
The Human Rights Watch researcher added that activists are trying find out more but it is difficult to get clear information once the workers are in quarantine.
"None of the agencies have any consistent record of exactly how many worker sites in Bangkok and neighbouring areas are under the order, or where," he said. "What are the populations? How many are Thais and how many are migrants? There is no clear statistic."
Sunai criticized the emerging government model of sealing off migrant-worker clusters instead of providing them with health and livelihood assistance. This was similar to the seafood market in Samut Sakhon, the electronics factory in Petchburi, and the chicken farm in Saraburi.
"What should have been done instead – and this is not just limited to workers themselves but the overall population – is to screen for Covid-19 as broadly as possible instead of just locking people up," he said.
"Both treatment and isolation also need to be non-discriminatory, and ensure equal treatment regardless of who they are, whether Thai or migrants."
Officials should make sure migrant workers "receive equal treatment and access to medical facilities, not just help Thais while [migrants] get locked up and provided with minimal services," he said.
Source: https://www.thaienquirer.com/29051/hundreds-of-migrant-workers-found-wandering-along-the-road-ahead-of-camp-closures/