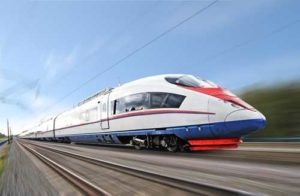 Thailand's high-speed railway project linking three airports expected to start early this year
The construction of a high-speed rail link between the capital's airports and U-Tapao airport in Rayong and Eastern Airport City is expected to start early this year, deputy government spokeswoman Tipanan Sirichana said on Friday.
Prime Minister Prayut Chan-o-cha, acting in his capacity as chairman of the policy committee for the Eastern Economic Corridor (EEC), has expedited the airport high-speed rail link project as it will be a key piece of infrastructure, she said.
Under the scheme, the airports will be connected with a high-speed railway linking Don Mueang airport in Bangkok and Suvarnabhumi airport in Samut Prakan, with an aim to boost the airport's capacity.
The construction will cover more than 6,500 rai in tambon Pla of Ban Chang district in Rayong, with the value of the public-private partnership investment worth around 290 billion baht.
Ms Tipanan said the premier has also acknowledged businesses have signed a memorandum of understanding (MoU) with the navy for joint use of U-Tapao airport, while an environmental and health impact assessment (EHIA) has been approved by the cabinet.
The airport has set a target to accommodate at least 60 million passengers per year, with each project investing in commercial airport services and aviation industry development.
The idea is to expand the investment to the EEC, as well as human resources and sustainable economic development.
The project will make revenue from a land lease with a revenue share worth 305 billion baht and 62 billion baht from taxation, with more than 15,600 job vacancies to be filled in the first five years.
Technology and skill development in the aviation industry will be added to the programme. After ending the term, all assets will belong to the government, she added.
Meanwhile, the State Railway of Thailand (SRT) governor Nirut Maneephan said the high-speed railway project linking three airports is being vetted by the EEC board.
It will decide whether to revise the contract due to overlapping infrastructure issues.
Source: https://www.bangkokpost.com/thailand/general/2493224/start-seen-on-trains-linking-airports