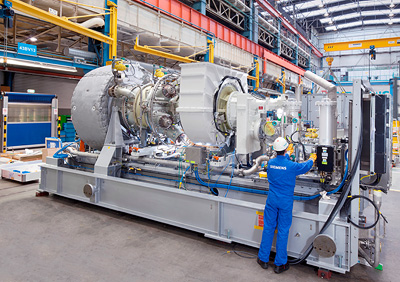 Dresser-Rand to supply three compressor trains for pipeline in Thailand
The Dresser-Rand business, part of Siemens Power and Gas, will supply three gas turbine-driven turbo compressor trains for the Wang Noi compressor station in Thailand. Samsung Engineering Co., Ltd. is constructing the station. Owner of the station is Thailand's state-owned oil and gas company, PTT Public Company Limited (PTT). The project is expected to be completed in 2018.
The compressor station will be located 70 kilometers from Bangkok. It will enhance the capacity of the Ratchaburi – Wang Noi pipeline to meet the increasing natural gas demands of power plants next to the pipeline. Within the compressor station, three SGT-400 industrial gas turbines will each drive a Siemens barrel-type STC-SV compressor.
"The compressor train was chosen to ensure PTT safe, reliable operation with low total life cycle costs," said Judy Marks, head of New Equipment Solutions for the Dresser-Rand business. "Our highly efficient compressor train technology offers a small footprint, thanks to its compact design, and higher availability due to shorter scheduled downtimes."
"Samsung is very pleased to be working with Siemens. Siemens is supplying the key equipment for this project, and Samsung relies on Siemens' high quality and project execution expertise. PTT, Siemens, and Samsung will work together on the successful execution of this project. One Team, One Goal," said Joo-Kyoung Cha, the Project Manager of Samsung Engineering.
The 154-kilometer pipeline, completed in 2000, runs from Wang Noi to Ratchaburi. The three 15 megawatts (MW) SGT-400 gas turbine-driven turbo compressor trains will increase pipeline volume by 800 million standard cubic feet per day of gas. The gas supplied by the pipeline will also be used in a new combined cycle power plant in South Bangkok with an electrical output of approximately 1,200 MW. Earlier this year Siemens, together with its Japanese consortium partner Marubeni Corporation, received an order to provide this turnkey power plant, which will feature two Siemens H-class gas turbines. The order represents the first time a Siemens H-class turbine will be installed in-country. After commissioning in 2019, the power plant is expected to power 1.5 million Thai households.
Siemens pipeline equipment technology is well-proven and will also become part of the Southern Gas Corridor for Europe. In 2016 Siemens received an order for six SGT-400-driven turbo compressor trains for the Trans Adriatic Pipeline consortium.
For more information on the Siemens compression business, please see www.siemens.com/compression
For more information on the SGT-400 industrial gas turbine, please see www.energy.siemens.com/hq/en/fossil-power-generation/gas-turbines/sgt-400.htm
Siemens AG (Berlin and Munich) is a global technology powerhouse that has stood for engineering excellence, innovation, quality, reliability and internationality for more than 165 years. The company is active in more than 200 countries, focusing on the areas of electrification, automation and digitalization. One of the world's largest producers of energy-efficient, resource-saving technologies, Siemens is a leading supplier of efficient power generation and power transmission solutions and a pioneer in infrastructure solutions as well as automation, drive and software solutions for industry. The company is also a leading provider of medical imaging equipment – such as computed tomography and magnetic resonance imaging systems – and a leader in laboratory diagnostics as well as clinical IT. In fiscal 2016, which ended on September 30, 2016, Siemens generated revenue of €79.6 billion and net income of €5.6 billion. At the end of September 2016, the company had around 351,000 employees worldwide. Further information is available on the Internet at www.siemens.com.
Source: http://m.siemens.com/en/press/pressreleases/pressrelease.php?detail=http://www.siemens.com/press/en/pressrelease/2017/power-gas/pr2017050296pgen.htm?content%5b%5d=PG