5th Thai-Lao bridge opens next year connecting Thailand's Bueng Kan with Laos' Bolikhamxai
The fifth Thai-Lao Friendship Bridge is set to open early next year which should help boost Bueng Kan's economic prospects, says the government.
The mid-section of the bridge, the last jigsaw piece of the construction, is expected to be completed in the middle of this year, said deputy government spokeswoman Tipanan Sirichana on Saturday.
Once open early next year, the bridge will accelerate border exchanges and transform the province into a trading centre in the region, she said.
The area is also expected to boost trade in the Greater Mekong Subregion (GMS), as it will speed up imports between Thailand, Myanmar, Laos, Cambodia, Vietnam, and China (Yunnan).
The bridge is served by a road that starts from the 123-kilometre marker of Highway 222 in Bueng Kan before joining with Highway 13 in Laos' Bolikhamxai. Work on the project started in 2020.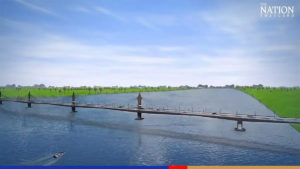 The fifth Thai-Lao friendship bridge is being built on a cable-stayed structure.
The construction cost is 3.6 billion baht, of which 2.5 billion baht comes from Thailand and the rest from Laos.
Ms Tipanan said the bridge will help facilitate transport over a distance of 150km from Thailand through to Vietnam via Laos. It is the shortest transport route from Thailand to Vietnam.
On Oct 28, Prime Minister Prayut Chan-o-cha and his Lao counterpart Phankham Viphavanh jointly laid a foundation stone ceremony for the bridge.
The construction is 60% complete and proceeding faster than planned. The project is expected to open to traffic early next year, said Ms Tipanan.
The first four bridges over the Mekong River serve the Nong Khai–Vientiane, Mukdahan–Savannakhet, Nakhon Phanom–Khammouane, and Chiang Khong–Huay Xai routes.
Source: https://www.bangkokpost.com/thailand/general/2493699/5th-thai-lao-bridge-opens-next-year