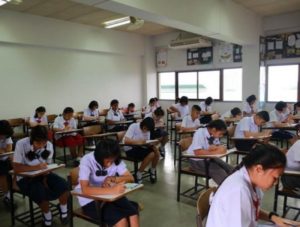 Thailand's English proficiency ranking among non-native English speaking countries ranked 100th out of of 112 countries
English studies gets raw deal in Thailand education
SEE ALSO: Thailand Falls In Global English Proficiency Index For Fourth Consecutive Year, Ranked 89th Out Of 100 Hundred Countries Surveyed
Thailand's English proficiency ranking among non-native English speaking countries has been ranked a paltry 100th out of a total of 112 countries and territories in a new survey.
In the annual English Proficiency Index released last week by the global language education company, EF Education First, Netherlands was ranked top of the world with a score of 663, followed by Austria (641) and Denmark (636). The index was based on assessments of English tests taken among more than 2 million adults in 112 countries and regions.
Among Asean countries, Singapore came top with a high level of English proficiency and was fourth in the world with a score of 635, followed by the Philippines (18th in the world) and Malaysia (28th in the world). The Philippines and Malaysia are in the high English proficiency group.
Vietnam and Indonesia are regarded as low proficiency, ranked 66th and 80th respectively. Myanmar and Cambodia were classified in the very low proficiency group, ranking 93rd and 97th places respectively.
Thailand's score at 419 placed the kingdom the lowest in Asean and third lowest among countries in Asia. Laos and Brunei are not included. Thailand's rank was 74th in 2019, dropping to 89th in 2020.
The index results reflect something structurally wrong in the Thai English-teaching and learning system.
Seven years ago, the Education Ministry issued a guideline based on the Common European Framework of Reference for Languagues (CEFR) aimed at reforming English teaching in the country. Then, three years ago, the ministry set up a boot camp project to improve the skills of English teachers in provincial areas. But the index results suggest such efforts have failed.
There are many factors hindering English teaching and learning in Thai schools. The attitude of many Thais who see Thailand as having its own language and culture, thereby minimising the need for English, causes a lack of enthusiasm among parents, which is needed to encourage children.
A poorly-designed curriculum that focuses on grammar, reading and writing instead of listening and speaking contradicts human nature. Students are forced to memorise grammar and vocabulary — an outdated approach for a key subject that is included in admission examinations for various higher education institutions.
Learning English should focus more on listening and speaking; serious grammar should come later. Above all, learning English should be fun and entertaining. The learning environment is also important. Children feel uncomfortable and discouraged when their friends make jokes about them speaking English incorrectly.
The most important problem is the low proficiency of Thai English teachers. Many teachers lack good listening and speaking skills since they were also trained the wrong way.
Previous Education Minister Nataphol Teepsuwan came up with a plan to recruit about 10,000 native English speaking teachers. The ministry also planned an intensive English programme requiring all public school students to study English for five hours a week. Bilingual programmes will also be introduced in about 2,000 public schools nationwide.
Unfortunately, like many other policies, the initiatives lack momentum and follow-through after cabinet reshuffles.
The internet and digital technology can be used to improve English teaching and learning but what we need is serious action by policy makers to reform the subject, and efficient investment in supporting technology.
BANGKOK POST EDITORIAL
These editorials represent Bangkok Post thoughts about current issues and situations.
Source: https://www.bangkokpost.com/opinion/opinion/2219235/english-gets-raw-deal