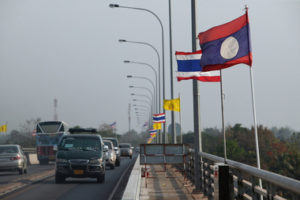 Thailand, Laos, China meet virtually to discuss dual-track railway linking the three countries and construction of new railway bridge from Nong Khai to Vientiane
SEE ALSO: Thai–Lao Friendship Bridges
Representatives from Thailand, Laos and China held a tripartite meeting via video conferencing on Friday to discuss the construction of a dual-track railway link between the three countries.
Attending were Transport Ministry's deputy permanent secretary Sorapong Paitoonphong and officials from other transport-related agencies like the Department of Rail Transport (DRT) and State Railway of Thailand (SRT).
At the meeting, Thailand and Laos discussed the construction of a new railway bridge from Nong Khai to Vientiane, though the two countries have yet to reach a conclusion on feasibility, design and construction.
The meeting also agreed on the setting up of two working groups, one focusing on the business side of things and another on the technical side.
The DRT deputy director and SRT deputy governor will join the technical working group, while the SRT chief construction engineer will join the business group.
Another tripartite meeting will be held in January.
Source: https://www.nationthailand.com/business/40009082