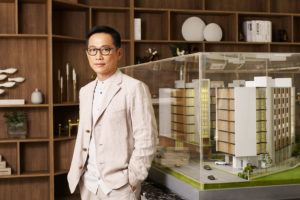 Leading Thai property developer 'Panna Living group' rebrands as 'U Charoen Estate'
Property development giant Panna Living group has announced its rebranding as U Charoen Estate to achieve deeper penetration of Bangkok's competitive real estate market
Dr. Chanathanop Rungrojtanakul, Chief Executive of Panna Living Co, Ltd, leading the management team of U Charoen Estate, says that the Rungrojtanakuls are launching a marketing push into Thailand's lucrative real estate market once again by completing a merger with the Panna Living group to create the new brand, "U Charoen Estate."
The new brand builds on 40 years of experience in the construction of high-quality and trustworthy homes in desirable locations. Coupled with such extensive experience, the company has its own vision and mission that places immense importance on environmentally friendly living that meets the needs of present-day consumers.
The company is setting its sights on developing projects on land in different locations, especially in around Pradit Manutham Road (alongside the Ramindra-At Narong Expressway), which is regarded as an area with high potential thanks to its easy access to Orange, Pink (Khae Rai-Min Buri), Grey (Watcharapol-Phra Khanong-Rama IX Bridge-Tha Phra) rail lines, the latter being a rail project which the Bangkok Metropolitan Administration is reviving.
Meanwhile, the location also represents a premium commercial district with high-end shopping and community malls and multiple forthcoming mixed-use projects. These are the factors that attract the attention of the upscale target group from a residential and investment perspective.
Furthermore, the company has also launched three projects available in two categories targeting upscale and middle-market segments.
Baan U Charoen Town In Town is a 14-unit project of 4.5-story home offices with lots of privacy and uniqueness. Featuring an elegant modern Japanese design, each unit has 431 sqm of usable floor area, parking for six cars, a private lift and home security automation systems. The project is located on Srivara Road in the Ekamai-Ramindra neighbourhood. The project is close to essential businesses and facilities, such as hospitals, schools and leading shopping malls. With its close proximity to an expressway and three rail links, the project is easily connected with the world of business in downtown Bangkok through the Chalong Rat and Si Rat expressways. The project is well served by various major roads going downtown and outside of the capital.
U Charoen Residence Town in Town is a condominium project in the Town In Town area, located conveniently to the Ekamai-Ramindra Expressway. The development is also close to the Orange Line subway. The simple low-rise modern Japanese design boasts an abundance of peace and privacy. The project comprises 208 units and meets the needs of the new generation thanks to the use of smart home automation systems The project is located in the same area as "Baan U Charoen Town In Town."
"Baan U Charoen Eastville" is a collection of super-luxury home offices available in semi-detached house and town home styles. The units offer between 355 and 430sqms of usable floor area, parking for 6 cars, private lifts, home automation systems and underground utility systems. The architecture is modern Palladian. The high-value location perfectly meets all business needs. The project is located on Soi Nak Niwat 6, behind Central Festival Eastville, just five minutes from the Ramindra At Narong Express Way.
"We're well aware of human nature. Everyone would like to develop and enjoy a better quality of life. We are targeting middle-market customers who are ready to move more upmarket as well as existing high-end customers. We're ready to step forward together with everyone. This year, we are launching three pilot projects worth over Bt2 billion to help stimulate and highlight the rebranding efforts of U Charoen Estate as a notable and strong brand," said Dr Chanathanop.
Source: https://www.bangkokpost.com/thailand/pr/2218351/leading-property-developer-rebrands-as-u-charoen-estate