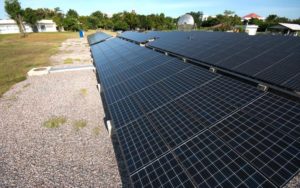 Thailand's CK Power plans 2.8 GW of renewable electricity generating capacity by 2024
Thai power producer and distributor CK Power PCL (BKK:CKP) plans to more than double in size over the next three years by adding some 2.8 GW of renewable electricity generating capacity.
Managing director Thanawat Trivisvavet stated that the company intends to build six power plants in Thailand and the region to hit 4.8 GW of cumulative capacity by 2024.
"All of our new installed capacity will be based on renewables, including solar power, hydro power and wind power," he said, adding that CK Power aims to create three new renewable energy ventures in two countries outside of Thailand.
Trivisvavet believes that within five years, the company's solar power capacity will be increased more than ten-fold to 300 MW, while wind farms will reach 700 MW. This means that at that point, some 95% of the company's total electricity generating capacity will be based on renewable sources.
According to the director, CK Power is currently well-positioned for the future when it comes to financials and has a solid balance sheet with steady cash flows from long-term power purchase agreements (PPAs).
Source: https://renewablesnow.com/news/thailands-ck-power-plans-28-gw-of-fresh-renewables-by-2024-774357/