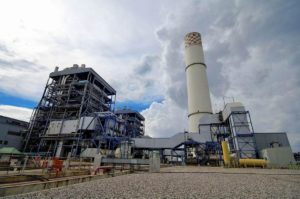 Pöyry completes work for 12 gas-fired combined cycle power plants in Thailand
04 September 2019
PÖYRY Press Release 04 September 2019
The last of the 12 gas-fired combined cycle power plants owned by Gulf MP Company Ltd, reached its Commercial Operation Date (COD) as scheduled, on July 1, 2019. In March 2015, Pöyry was awarded the engineering services assignment for the 12 projects, which included nine 120 MW and three 130 MW gas fired combined cycle power plants in Thailand.
As the contractor's engineer, Pöyry handled the engineering and design works, process and plant engineering, plant layout design, civil and structural design, mechanical and piping design, control and instrumentation design, electrical design, procurement and tendering services, as well as the project management and administrative services for all the aforementioned scope.
Gulf MP Company Ltd., had already started selling electricity from the said projects to the Electricity Generating Authority of Thailand (EGAT), under the Small Power Producer (SPP) program, since May 2017 when the first of the 12 plants reached its COD. The 12SPP power project has a combined installed power generation capacity of 1,490 megawatts and a combined installed steam generation capacity of 247 tons per hour.
'We are pleased to have successfully finished these important engineering projects on time and with good quality. The successful completion of these 12 projects show the major benefits that parallel execution of multiple standardised power plant projects can have, and the unparalleled expertise that Pöyry has in executing largely standardised power plant designs,' said Petteri Härkki, Regional Director, Asia.
The Gulf MP Company Ltd is jointly owned by Mitsui & Co., Ltd and Gulf Energy Development Public Company Limited. Toyo Engineering Corporation and TEC Project Services Corporation were awarded the EPC and supply contracts respectively, in November 2014.
For further information, contact:
Petteri Härkki
Managing Director Thailand and Regional Director Asia, Thermal Power, Renewables and Energy Markets
Tel. +66 81 854 3712
Did you know?
•Combined cycle power plants are one of Pöyry's key areas of expertise, and we have a track record of more than 30,000 MW of designed and constructed CCGT capacity all over the world during the last ten years alone.
•Pöyry has had substantial involvement in the design and construction of more than 50 power plants in Thailand and has performed more than 200 consulting or engineering assignments for power projects in the country.
About ÅF Pöyry
ÅF Pöyry is an international leader within engineering, design and advisory services. We create solutions to support our customers worldwide to act on sustainability as well as the global trends of urbanisation and digitalisation. We are more than 16,000 devoted experts within the fields of infrastructure, industry and energy operating across the world to create sustainable solutions for the next generation.
Source: https://www.marketscreener.com/POYRY-PLC-1412520/news/Poyry-Poyry-completes-work-for-12-gas-fired-combined-cycle-power-plants-in-Thailand-29158194/