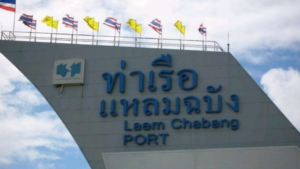 Thailand's Central Administrative Court rules NPC Consortium's bid for Laem Chabang port still acceptable
By The Nation
The Central Administrative Court on Friday (September 27) issued a ruling on the case between plaintiff NPC Consortium and the Selection Committee of Phase 3 Laem Chabang Port Development Project, the Eastern Economic Corridor Policy Committee and the Trial Appeal Committee.
The NPC Consortium had filed a court appeal seeking the revocation of the Selection Committee's order disqualifying NPC Consortium as a bidder for the Phase 3 Laem Chabang Port Development Project (F port section), because the bid documents had been signed in the wrong area (at the document's footer area instead of in the designated blank space).
The court ruled that signatures in the wrong area did not alter the essence of the documents, nor do they work to the consortium's advantage. Hence, it dismissed the Selection Committee's decision to disqualify NPC Consortium as a bidder until further notice.
Phadet Methiyanont, vice president of business development at Nathalin Co Ltd, which is part of the NPC Consortium, said he was satisfied with the court's ruling but would remain cautious about the Selection Committee's reaction.
"The committee has 30 days to appeal the ruling, so our legal team is monitoring the situation closely and is ready for further legal action if necessary," he said. "Meanwhile, the NPC Consortium will continue bidding for the rest of the projects as planned."
Investment for the Phase 3 Laem Chabang Port Development Project has been estimated at Bt84 billion and bids from qualified contractors are being accepted since March 29.
Source: https://www.nationthailand.com/news/30376831