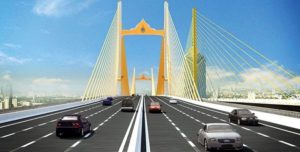 Two of four contracts awarded for Rama III Expressway
By THE NATION
Directors of the Expressway Authority of Thailand (EXAT) on Friday (September 27) announced the winners of two of four contracts to build the Rama III Expressway, which will feature a two-kilometre cable-stayed bridge spanning the Chao Phraya River.
A consortium called CTB, comprised of China Harbour Engineering Co, Thipakorn Co Ltd and Buri Ram Thong Chai Construction Co Ltd, posted the winning bid of Bt6.44 billion for Contract 2, 11.06 per cent lower than the reference rate.
Ch Karnchang Pcl was awarded Contract 4 – the bridge itself – with a Bt6.636-billion bid, 16.46 per cent under the reference rate.
Two other contracts are expected to be awarded at the end of October, by which time a new EXAT governor will have succeeded retiring Phuttigun Kanjanapangka.
The expressway will cover 19km from Rama III Road in Phra Nakhon to the Western Outer Ring Road in Thon Buri.
Contract 1, involving a 6.4km segment of the expressway, has a reference rate of Bt6.98 billion. A consortium of China State Construction Engineering Corp, Nawarat Patanakarn Pcl and AS Associated Engineering (1964) Co Ltd have bid Bt5.897 billion.
Contract 3, for a 5km section, has a reference rate of Bt6.991 billion. A consortium of China Railway 11th Bureau Group Corp, Civil Engineering Co Ltd and Bunchai Panich (1979) Co Ltd has offered Bt6.098 billion.
Source: https://www.nationthailand.com/business/30376836